Taylor Swift's Re-Recorded Albums: 9 Major Questions We Have About Them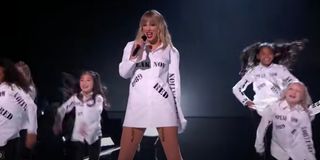 Taylor Swift's fans have been eagerly awaiting the re-recordings of her earlier albums since 2019, when she confirmed that she she was allowed to do it starting in November 2020. Well, it's November 2020 and after news broke that the master recordings of her first six albums had been sold by Scooter Braun, Taylor Swift shared a statement to her fans, which included an update on her plans to re-record her older works. It's happening, Swifties. She's already in the studio.
The details about the re-recorded albums aren't plentiful beyond that. There are six albums that were owned by Big Machine Records -- Taylor Swift (2006), Fearless (2008), Speak Now (2010), Red (2012) 1989 (2014), and Reputation (2017) -- and from what Rolling Stone reported, it's likely that the first five are eligible to be re-recorded starting this month, but Reputation's release may be too recent to qualify right now.
In her statement to fans this week, Taylor Swift said she's begun re-recording her older music and it's proven to be "both exciting and creatively fulfilling." She also said she has "plenty of surprises in store." Little else could've eased our frustration over the news that her masters were once again sold to not-Taylor Swift better than that bit of information she gave us, complete with a sunglasses emoji. With all of that said, I have some big questions about Taylor's plans for the new recordings of her first five albums. So let's get to it.
When Will Taylor Swift Release The New Albums?
What's the release date for the first album? There's been no word on when we might expect to hear any of the re-recorded albums. Taylor Swift hasn't shared details about her intentions for this project, beyond that it's happening and she's working on it. So the actual release date of the first re-recorded Taylor Swift album is unknown right now. We can also package in the "how" of it all. Will singles be released before the full album? Or will the album arrive all at once? Will there even be an announcement about the release date, or will it simply arrive when it's finished with little or no notice, as she did with Folklore?
Which Re-Recorded Album Will Taylor Release First?
The assumption might be that the first re-recorded album to be released will be 2006's Taylor Swift, the self-titled album that started it all. And while I doubt fans would complain if that's the case, I don't think we should rely entirely on the obvious assumption. What if she decides to give us Red first? Taylor's fourth studio album was a transitional one, offering a mix of country and pop songs and proving that this artist was only just getting started. Then again maybe she'll start with 1989 and work her way backward through the years. Or she'll go in order of release. We don't know yet.
Is It Possible Taylor Swift Will Drop All Five Albums At Once?
This one may be a long-shot, but without more specifics to go on, we probably shouldn't rule it out completely. I can't help but wonder, what if the ultimate plan is to re-record everything over the next few months and then, surprise!, five Taylor Swift albums full of familiar songs redone for us to devour track by track by track. I don't know if this plan is likely, but it's possible.
Will She Make Any Major Changes To The Music Or Lyrics?
I can't stop thinking about the "creatively fulfilling" part of Taylor Swift's statement, which makes me wonder if she's going to make any minor or major changes to the music or lyrics of her songs. On one hand, I imagine the goal is for these albums to satisfy fans enough to offer an updated alternative to the master recordings she no longer owns. But on the other hand, Taylor Swift might want to tinker a bit to some of the music and lyrics, making big or small tweaks she wishes she'd worked in on the original recordings. This is one of the more exciting unanswered questions that we may not know the answer to until we hear the new versions of the songs. And that brings us to our next question...
Will She Record The Longer Version Of All Too Well?
Many Swifties have long hoped for Taylor to release the extended version of "All Too Well," the heartbreaking fifth track on Red, which already clocks in at over five minutes. Taylor Swift has said that she had to pare down the original song for the original album. So we know there were additional verses that never made it onto the studio recording. We've heard the abridged version and it's a masterpiece. We're ready to hear the unabridged version, if she's ready to share it. And what better time to include that version than when Red's re-recording is done?
Will The Featured Artists Return For The New Recordings?
On more than one occasion, Taylor Swift has collaborated with other artists for a track on her album. On Red, she had Gary Lightbody singing with her for "The Last Time" and Ed Sheeran for "Everything Has Changed." Colbie Caillat sang with her on Fearless' "Breathe." Will these artists be returning to sing the re-recorded songs with her? If not, will Taylor bring someone else in for the track, or else change the song to a solo act?
What Will The Album Covers Look Like?
Shamrock Holdings doesn't just own the masters for Taylor Swift's early albums. According to Swift, they also own the rights to the album art and videos, which means we should presumably expect new album covers for each of them when they're released. Will Taylor make any major changes to the look of her albums? This is one more exciting thing to anticipate.
Fans of Taylor Swift's songwriting know that she has a thing for colors, and the original album art for each of her albums has its own unique color scheme, with the exception of maybe Folklore and Reputation, both of which went with monochrome cover art (though their color schemes seem more apparent in the merch and videos). So she may choose to honor the original color schemes, but will she use an updated photo for each of the new covers? Or will we see a photo that depicts her at the age she was when the original released? We'll have to wait and see what these new albums look like when they're released.
Will We Get New Music Videos?
As mentioned, per Taylor Swift's recent statement, Shamrock now owns the rights to all of the videos from her first six albums. Does Taylor have any plans to make new music videos to go with some of her hits? It's impossible to imagine a new version of "Shake it Off," "Blank Space," "You Belong With Me" and others. And it's entirely possible that Swift has no plans to do new music videos for her older songs, but it's worth noting that, since Reputation's "Delicate," she's been directing or co-directing a lot of her music videos. With that in mind, it's easy to wonder if she has some new ideas brewing for music videos, either for songs that have already had a music video, or maybe some of the songs that didn't previously.
Will This Lead To A Tour?
Remember concerts? In light of the ongoing COVID-19 pandemic, it's hard to say when it'll be safe for us to return to the stadiums to see our favorite mega-artists perform live, but should that happen in the next year or two, will Taylor turn these re-recordings into a theme for a new tour?
Technically, Taylor Swift already has two albums that have yet to receive the tour treatment. She was set to do do LoverFest this year -- in Boston and Los Angeles, as well as venues overseas -- but that event has been postponed indefinitely. And who knows what her plans are for Folklore, if/when live music events are a thing again. But is she considering doing something else, either separately or in place of those albums, to celebrate the new recordings of her past works? At this point, I'm sure I'm not alone in not being particular, but the thought of a musical event that celebrates eight albums worth of Taylor Swift's songs sounds kind of amazing.
These are the biggest questions I have about the re-recordings of Taylor Swift's early catalog of albums. Whatever the answers are, it's exciting just to know that she's working on them now.
I'm also curious to see if these new albums will lead to new merch for each of them, but that's a question my wallet doesn't really want to think about right now.
Your Daily Blend of Entertainment News
Assistant Managing Editor
Kelly joined CinemaBlend as a freelance TV news writer in 2006 and went on to serve as the site's TV Editor before moving over to other roles on the site. At present, she's an Assistant Managing Editor who spends much of her time brainstorming and editing feature content on the site.