Arnold Schwarzenegger Fondly Recalls That Time He Got Involved With Tales From The Crypt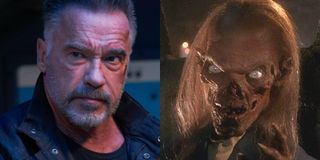 What's the first thing you associate Arnold Schwarzenegger with? If you say Tales From The Crypt, you're a liar. No offense but, unless you're a hardcore fan of the classic show, you're not going to convince me that you knew the body-building former governor of California and king of one-liners directed an episode of Tales From The Crypt back in the early '90s. But the Terminator star did in fact try his hand at directing back in the day, and the actor recently looked back on his involvement with the anthology series fondly.
As iconic as Tales From the Crypt is, it's definitely on the lower end of Arnold Schwarzenegger's notoriety scale. Nevertheless, it's a pretty cool addition to a resume and apparently, a fond memory for the Total Recall actor. He recently posted to his Twitter about his involvement with the series, especially how much fun he had hanging out with the Crypt Keeper. Check out the post down below:
Considering most people who come across the Crypt Keeper in person aren't breathing, at least not for very long, it's a miracle Arnold Scharzenegger came out the other side alive! Just kidding but, honestly, it seems like there's not much the Austrian-born star can't do. He really is a jack of all trades, and has thrown his hat into a lot of different industries.
While most people know Arnold Schwarzenegger as a bodybuilder, actor, and politician, he has actually done a lot of other cool things too. Now that he has pretty much established himself as someone who is successful in a lot of different ways, he has gone into the tequila business with, interestingly enough, LeBron James.
If business ventures weren't enough to keep him busy, he's also continuing his well developed acting career and his partially been doing so by reprising his famous roles, and he may even be teaming back up with Danny Devito in a sequel to Twins. We've already seen him help revamp an oldie but goodie with 2019's Terminator: Dark Fate, and it would be awesome to see more of our favorite classic Arnold roles back on the big screen.
If for some reason, God Forbid, you're not a fan of classic Arnold Schwarzenegger roles, he is adding another role to his codex of credits by returning to TV. Not much is known about his new TV project, but do know he'll be teaming up with Scorpion and Most Dangerous Game creator Nick Santora.
It sounds like we have a lot to look forward to from Arnold Schwarzenegger, but it's always fun to revisit the past glories. We're glad he did with his fond Tales from the Crypt memory and, hopefully, some fans learned something new about the entertainment icon in the process. Now, it's time for us to revisit our old box sets, cause we're going to need to see it again for ourselves!
Constantly thinking about books, coffee, and the existential dread I feel from Bo Burnham's Inside. While writing I'm also raising a chaotic toddler, who may or may not have picked up personality traits from watching one too many episodes of Trailer Park Boys.
Your Daily Blend of Entertainment News
Thank you for signing up to CinemaBlend. You will receive a verification email shortly.
There was a problem. Please refresh the page and try again.