Watch Out Ryan Reynolds, Arnold Schwarzenegger's The Latest Celebrity To Get Into The Alcohol Game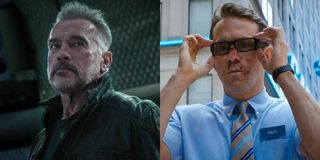 A-list Hollywood actors make a great deal of money to star in movies -- that's not really a secret. Other than spending that money on nice cars and big houses, some actors hop into the investing game as well. Take Ryan Reynolds as a prime example. The Deadpool star has been well-known for purchasing a large stake in Aviation Gin. Now, it looks like he's going to need to watch out, as Arnold Schwarzenegger and LeBron James are purchasing an alcohol brand of their own.
We all know Arnold Schwarzenegger loves his cigars but, instead of investing in a cigar business, the 73-year-old legendary actor is moving into the tequila business with co-investor LeBron James. The two have recently invested in the tequila brand Lobos 1707, according to Page Six. Both Schwarzenegger and James were introduced to the brand by the investment adviser Paul Wachter.
This could prove interesting for the Lobos 1707 brand. After all, it makes sense to get high-profile names to invest as a way of boosting the brand's recognition and appeal. Now that Arnold Schwarzenegger and LeBron James have bought it, only time will tell if it raises the tequila businesses' profile.
Ryan Reynolds, for his part, certainly helped boost Aviation Gin's profile. Since buying a stake in the business, he's been putting his creative juices to work, making hilarious, memorable, and unexpected ads for the company.
Perhaps his most memorable and surprising moves was when Ryan Reynolds hired the Peloton actress to appear in his Aviation Gin ad shortly after the Peloton controversy. Making quick work of the controversy, he tried to contact her within hours to make his own ad. That masterful stroke propelled the Aviation Gin brand to new heights, and it looks like all of that has worked out pretty well for Ryan Reynolds.
Back in August, it was reported that he sold Aviation Gin for $610 million to Diageo. That doesn't mean he'll be saying goodbye to the brand, though, as he's expected to stay on and have an interest in the company, which would make sense considering he's been one of its biggest supporters.
Believe it or not, Ryan Reynolds doesn't only own an alcohol business. He purchased an ownership stake in Mint Mobile last year, hoping to diversify his portfolio. Not long after, he started putting his comedeic genius to work for the company by creating funny ads, one of which featured fellow Canadian actor Rick Moranis.
Other than Ryan Reynolds, Arnold Schwarzenegger and LeBron James have another big actor to contend with in the alcohol space—Dwayne "The Rock" Johnson. Johnson launched his own tequila brand, Teremana, back in March and is hoping it stands the test of time. So buckle up, Arnold Schwarzenegger and LeBron James, you've got some stiff competition awaiting you.
Your Daily Blend of Entertainment News