Grey's Anatomy And Station 19: What To Expect From The Crossover When They Return In 2021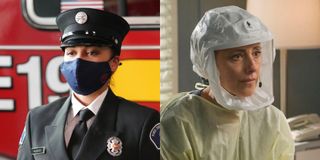 (Image credit: ABC)
Nearly three whole months have passed since Station 19 and Grey's Anatomy aired their winter finales, and both shows ended 2020 on cliffhangers. ABC already pushed back the winter premieres until later in March than originally anticipated, prolonging the wait for answers even longer. Fortunately, the two shows are finally days rather than months or weeks away from premiering, and ABC has already confirmed what to expect from the episodes and when they will air. The wait is almost over!
Both Station 19 and Grey's Anatomy will return to ABC on Thursday, March 11, with Station 19 at 8 p.m. ET and Grey's Anatomy at 9 p.m. ET. ABC is hyping the winter premieres as a crossover event, although ABC frequently hypes crossovers between the two shows that arguably shouldn't qualify as genuine crossover events. That said, the trailer for the episodes combined with the episode descriptions indicate that the winter premieres could be pretty heavily connected to each other.
Station 19 will kick things off on March 11. The winter finale ended with Dean and Sullivan arrested when a situation escalated between police officers and people on the scene of some girls who the firefighters had rescued, but Station 19 will be handling more than just its own cliffhanger from back in December 2020. A Grey's Anatomy cliffhanger has a part to play as well. The Station 19 winter premiere, called "Train in Vain," will have a lot going on. Check out the description:
The winter finale of Grey's Anatomy saw DeLuca convince a reluctant Carina (who became a Station 19 regular rather than Grey's Anatomy star for the 2020-2021 TV season) that they needed to chase the sex trafficker that he recognized in the parking lot of Grey Sloan rather than just call the police and hope the authorities could handle. Carina insisted on driving, which was probably for the best even if DeLuca had been proved correct in his suspicions about the woman back when he had his breakdown.
That's not to say that all of "Train in Vain" will focus on the DeLuca siblings chasing down a criminal. Andy will be in charge of the station's annual inspection, while Dean and Vic have to find a way to cope with Dean's arrest. I do wonder if we're looking at any kind of time jump, if Station 19 is dealing with the "fallout" of the arrest but also following Carina and DeLuca. My best guess is that Dean and Vic will still be dealing with the early shock and trauma of what happened. After all, it was a dangerous situation that could have turned deadly, with the armed cops clearly making decisions based on race.
As for which of these plot points will continue to be explored when Station 19 turns the crossover duties over the Grey's Anatomy at 9 p.m., the episode description doesn't yield many answers. Called "Helplessly Hoping," Grey's Anatomy has this in store:
However Station 19 ends will impact how Grey's Anatomy picks up, but the "Helplessly Hoping" description doesn't give any clues about what story will drive the plot that will create so much tension. The obvious answer is the Carina/DeLuca plot, as they can't exactly chase sex traffickers forever, but I'm not sure how that story would continue once the action presumably returns to Grey Sloan. Grey's Anatomy isn't nearly as mobile as Station 19, and the tease of Jo's story with Hayes indicates that at least some of the winter premiere will indeed be based in the hospital.
Honestly, this just fuels my crackpot theory that Grey's Anatomy and Station 19 are building to a police-based spinoff, to create a One Chicago-esque TV universe over on ABC. Hey, it has worked for NBC! More realistically, however, the two shows have clearly put together a couple of a big episodes for the 2021 return, and if the episode descriptions haven't convinced you, take a look at the crossover trailer:
The March 11 premieres mean that Grey's Anatomy and Station 19 are among the later large network shows to return in 2021, with even fellow medical drama New Amsterdam returning for a whole new season with some big twists before these two ABC hits returned to the airwaves. Still, the long wait could be rewarded if these winter premieres are as intense and emotional as they seem.
Resident of One Chicago, Bachelor Nation, and Cleveland. Has opinions about crossovers, Star Wars, and superheroes. Will not time travel.