How Law And Order: SVU Said Goodbye To Christopher Meloni's Stabler And What Brings Him Back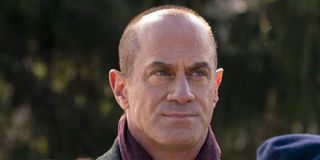 Law & Order: SVU is going strong in Season 22, but the show went through a fundamental change between the end of Season 12 and beginning of Season 13 when Christopher Meloni departed the series. Mariska Hargitay was suddenly without her longtime scene partner, and at the time, it was hard to imagine the series moving forward without Benson and Stabler investigating heinous crimes together. The show obviously did continue without Meloni and added new cast members, but now that Meloni is coming back, it's time to look at how SVU said goodbye to Stabler and what brings him back into the action after all these years.
Christopher Meloni will finally reprise his role as Stabler with a crossover between Law & Order: SVU and his own upcoming spinoff, Law & Order: Organized Crime, which will launch with its series premiere as the second half of the two-part crossover. While Meloni and Mariska Hargitay have remained close in real life, Stabler has evidently been MIA from Benson's life for a decade or so, and that has significant implications for his return. So, let's dive into how the show wrote him off and the good and bad reasons he could have for returning in Season 22.
How Law & Order: SVU Said Goodbye To Stabler
The stage was set for Christopher Meloni's Elliot Stabler to depart SVU with the Season 12 finale, although at the time fans didn't know that Stabler wouldn't be back by the time Season 13 would roll around in the fall of 2011. In the final episode of Season 12, the daughter of a murder victim opened fire on three criminals in the cage in Special Victims, waiting to be transferred to central booking.
All three men (including a dirty federal agent played by Pedro Pascal in his pre-Game of Thrones and Mandalorian days) died, but unfortunately, the young woman was so frantic in her firing that she accidentally shot and killed Sister Peg as well. Stabler fired on her with the goal of stopping her from doing any more damage, but he didn't manage to merely wound her. She died from that gunshot in the Season 12 finale.
The Season 13 premiere picked up on that plot, just without Stabler on screen. Although Benson made a case for her partner that the shoot was justified, Stabler had to go on administrative leave and would be subjected to a psychological evaluation. Instead, Stabler decided to "put his papers in" and retire, which Benson learned via Cragen. She said that he earned it, but was visibly upset and wound up in tears alone in an interrogation room.
SVU really didn't have too many options on how to write out Stabler off-screen that would make him look good without killing him off, so Benson was in for some heartbreak however it went down. That said, Benson finding out from Cragen rather than her partner of over a decade was pretty upsetting, and there is no sign that Stabler kept in touch over the years despite everything Benson has gone through.
SVU said goodbye to Stabler, but it didn't make him look great in the process. Sure, he earned his retirement from all those years investigating some of the worst of the worst criminals; it just wasn't the best way to do it, even if SVU was in an impossible position without Meloni on board for a farewell.
What Brings Stabler Back To Law & Order: SVU
Based on what has been revealed about Christopher Meloni's return as well as what has been implied, there are bad and potential good reasons for Stabler to come back into Benson's life. Of course, the most obvious reason why Stabler is coming back to SVU is that SVU is going to launch the Organized Crime spinoff, so he's literally returning so that he can make the jump to his own new show. The story reasons for his return are a little more complex.
And since this is SVU we're talking about, we may as well start with the dark and depressing reason that has been confirmed about why Stabler is coming back. According to the official description of Law & Order: Organized Crime, Stabler returns to the NYPD after a devastating personal loss, and since an episode of SVU starts the two-part crossover featuring Christopher Meloni back in the expansive Law & Order universe, it's safe to say that fans will at least learn about this loss on SVU.
That devastating personal loss will evidently happen because of organized crime in New York City, as he'll return to the NYPD to lead a new task force to battle organized crime while seeking absolution and rebuilding his life despite the NYPD going through some changes during his decade away. It's not yet clear what this devastating loss will be, but my money is on a member (or members) of the Stabler family being killed, and Stabler might be in a pretty bad way emotionally. Not that he was ever all that emotionally stable, really.
Now that we've covered the dark and depressing circumstances of Stabler's return, let's look at the silver lining. The first trailer showing Christopher Meloni finally back as Stabler reveals him looking emotional and saying these lines:
I for one can't imagine that Stabler is saying that to anybody other than Benson, and the look on his face is open enough that I might be able to forgive him for leaving without giving his partner so much as a heads up. Plus, you know, that devastating personal loss. But he seems to be acknowledging the time and space between them, which I see as the first step toward rebuilding the dynamic that defined SVU for so long.
And then there's what seemed like a throwaway line at the end of the latest episode that suggests something actually happy could go down despite the tragedy on the way. The February 25 episode revealed that Benson has been honored with an "NYPD Women In Law Enforcement" award, although she wasn't enthusiastic about it and doesn't even want to write a speech and attend. Fin encouraged her and ended the conversation by saying "and you never know who may show up." Dun dun!
Between the heavy hint about somebody showing up when she receives her award in a month in an episode that aired almost exactly one month before the SVU/Organized Crime crossover and the fact that the official Law & Order YouTube account posted the scene with the title of "Benson Has A Big Surprise Coming," I don't think I'm being hasty in thinking that Stabler will show up to support her. Take a look:
Unfortunately, fans are still in for a bit of a wait before finding out exactly how Law & Order: SVU will handle Stabler's return in light of how he was written off. Christopher Meloni is back as Stabler in the SVU/Organized Crime spinoff that begins on Thursday, April 1 at 9 p.m. ET on NBC.
The premiere of Law & Order: Organized Crime adds yet another show to the large universe of Dick Wolf shows, and is arguably more likely than any of the others to feature mini crossovers on a regular basis. Or maybe that's wishful thinking! Either way, we'll find out starting in April.
Resident of One Chicago, Bachelor Nation, and Cleveland. Has opinions about crossovers, Star Wars, and superheroes. Will not time travel.
Your Daily Blend of Entertainment News
Thank you for signing up to CinemaBlend. You will receive a verification email shortly.
There was a problem. Please refresh the page and try again.