Will Meghan Markle And Prince Harry's Oprah Winfrey Interview Expose The Alleged Rift Between Katie Middleton, Prince William And Their Family?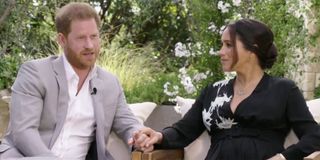 There's a lot that has been written about the relationship between Meghan Markle and Kate Middleton, as well as their princely partners, Prince Harry and Prince William, in the time since Markle came onto the royal scene. A lot of the headlines have focused on Middleton and Markle's seemingly frosty relationship, and now with a new feelings-driven interview with Oprah Winfrey on the way, will Meghan Markle expose the alleged rift between the two families?
So far, a preview for the upcoming interview, which is set to air on CBS, has seemingly revealed Meghan Markle is feeling "liberated" and ready to speak out about what happened during the time when she lived in the U.K. and ultimately why she and Prince Harry left to start over in the U.S. However, now insiders are saying that Meghan Markle doesn't take a negative tact, at least when it comes to Kate Middleton.
A new report over at Page Six indicates that while tonight's big Oprah Winfrey and Meghan Markle sitdown will be filled with all sorts of juicy details, talking smack about her famous sister-in-law will not be one of them. An insider with knowledge of the situation actually says Markle had only "kind words" for Kate Middleton during the sit down.
This is separate from many of the reports that have indicated that there is a rift between Prince Harry and his brother Prince William as well as Kate Middleton and Meghan Markle. Reports have called their relationship "frosty," particularly after Harry and Meghan ultimately decided to leave their Royal duties. That move has allegedly put more on Prince William and Kate Middleton's plates.
One particularly notable report came in the Finding Freedom biography, which indicated there was an incident between Kate Middleton and Meghan Markle both were heading to the same location to go shopping and Middleton allegedly decided to take her own Range Rover, alone, instead of going with Markle. Kate Middleton later sent Markle flowers, but it may have been an instance of too little, too late.
In fact, the term "distant politeness" was used in the book to describe their relationship. Even if Meghan Markle chooses not to expose any issues or rifts between the two couples, that doesn't necessarily mean the "distant politeness" comparison is inaccurate. It may just mean that the two families are a subject Markle isn't really interested in touching publicly. It's also worth noting Kate Middleton did speak warmly about Meghan Markle when she was going through her first pregnancy, around the time that feud rumors were first swirling heavily. So, it hasn't been all frostiness all the time.
One subject that sounds like it will be coming up will be Thomas Markle, who spoke repeatedly with the press around the time of his famous daughter's wedding. A letter Meghan Markle sent to her father in the hopes to heal their rift later became the subject of a lawsuit Markle filed after said letter was published in The Mail on Sunday and online. Markle sued after the outlet printed the letter, a lawsuit she recently won. The judge ordered the outlet to apologize on the front page following the lawsuit loss.
How To Watch Oprah Winfrey's Big Interview With Meghan Markle And Prince Harry
Meghan Markle will potentially touch base on her family, the press, and a slew of other topics, but we'll have to wait and see what she says about Kate Middleton and Prince Harry. The interview with Oprah Winfrey will air on CBS on Sunday, March 7 at 8 p.m. ET. The new show will be a two-hour affair on the Eye Network, running from 8-10 p.m.
If you aren't currently a cable subscriber, the interview will also be available streaming on CBS.com.
Amazing Race & Top Chef superfan with a pinch of Disney fairy dust thrown in. If you've created a rom-com I've probably watched it.