Juicy Rumor Insists Prince Harry And Meghan Markle Want Netflix's The Crown To End Before Their Season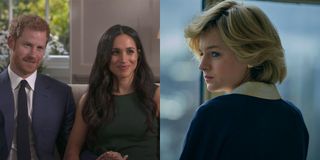 As The Crown kicked off its fourth season on Netflix this week, there have been a few things worth noting. First, the streaming series is getting uncomfortably close to the modern-day. Secondly, with Prince Harry and Meghan Markle joining Netflix in an iconic streaming deal, the rumor mill has been on fire this week, and now one particularly juicy tidbit indicates the Royal family may be trying to quash the series before it makes it to the present.
Rumors about the Royal family are par for the course these days given the alleged upheaval that led Prince Harry and Meghan Markle to relocate to the United States. However, this one is coming from Angela Levin, a biographer of the Royal family who wrote Harry (published in 2018) and who has had actually conversations with the former royal.
According to a recent interview with talkRADIO (via The Dailymail), Angela Levin spoke with Prince Harry about The Crown whenever that show was in its second season (the one heavily focusing on Queen Elizabeth II and starring Claire Foy). She asked Prince Harry whether or not he and the rest of the family were watching the series and allegedly was displeased with the show revisiting dirty laundry on the family.
So far, Prince Charles, Queen Elizabeth and the other members of the Royal family depicted on the series have let new seasons happen. In fact The Crown is exceedingly popular (though maybe not quite as popular as you'd guess) and currently ranks as the #1 program on the streaming service. So, a lot of people are watching the depictions unfold on the small screen. It's unclear how Prince Harry could stop the series from happening, but now Angela Levin posits it may no longer even be his goal at this point.
Since it first began airing, The Crown has been noted for being no-holds barred when it comes to portraying the Royal Family, and many of the members of that family are still alive to watch their life stories play out on the small screen. Angela Levin also told RadioTV that she believes Prince Harry's deal with Netflix is a sure sign that he's shifted his allegiances away from his family and toward money-making.
Obviously, we haven't officially heard from Prince Harry on the matter, and this is one woman's thoughts based on information she learned a few years ago on the Royal family and The Crown. But it will be interesting to see what happens next. Does Prince Harry have enough clout through his Netflix deal to keep the show from reaching the years when he and Meghan Markle would even be heavily involved? Is that even something he cares about? And if the show goes on, would he be able to change or push a different narrative to the episodes if The Crown doesn't get cancelled? It's all very interesting to speculate about and something I hadn't even considered before these comments came down the pipeline.
Meanwhile, The Crown Season 4 spotlights Prince William and Prince Harry's famous parents, Prince Charles and Princess Diana. If you haven't caught it yet, you can totally stream it on Netflix. Or take a look at what the subscription streaming service has coming up next.
Reality TV fan with a pinch of Disney fairy dust thrown in. Theme park junkie. If you've created a rom-com I've probably watched it.
Your Daily Blend of Entertainment News
Thank you for signing up to CinemaBlend. You will receive a verification email shortly.
There was a problem. Please refresh the page and try again.