Wait, Did WandaVision's Randall Park Really Forget He Was On The Office?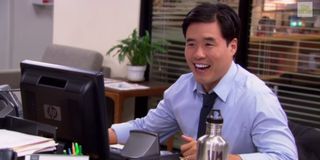 Marvel Studios' and Disney+'s WandaVision has come to an end, and fans cannot get over the series. From Wanda and Vision's relationship to the classic sitcom callbacks to that excellent villain-ish twist that everyone saw coming, people can't get enough. Something many fans can agree on is that Jimmy Woo, played by Randall Park, is TV's latest and greatest FBI agent, and that rejuvenated fandom sparked some appreciation for the actor's other memorable roles, which include Jim Halpert from The Office. While reflecting on his time on the hit NBC series, Park revealed that he may not actually remember it.
The third episode of The Office Season 9, titled "Andy's Ancestry," featured one of the best cold opens in the show's history. With Jim out that morning for a dentist appointment, he and Pam called in their actor friend Steve to play a prank on Dwight. As Steve, Randall Park pretended to be John Krasinski's Jim by listening to some voicemails, telling Dwight about sales he'd made, and even going as far as changing Jim's family picture so it resembled more of an "Asian Jim," which freaked Dwight out. The role was small and only factored into the cold open, but even at less than two minutes, it's still memorable to this day. At least to everyone beyond Park.
While on The Conan O'Brien Show recently to promote the final episode of WandaVision, Park talked about that Office guest spot, which has clearly stayed on some fans' minds thanks to years of rewatching episodes. That said, the appearance isn't one that sticks to the forefront of Park's memory banks, since it took so little time to put together. Park said:
Dwight's reaction in the moment is that Randall Park's character isn't Jim, because Jim's not Asian, to which Steve replied, "You really didn't notice? Hey, hats off to you for not seeing race." Thus, the awkward nickname Asian Jim was born, though it didn't fare too well with the temporarily oblivious Park, who couldn't understand why people carried on with it. Park explained:
Although it was a role on The Office, and a memorable one for fans at that, it's not hard to blame Randall Park for forgetting a two-minute role that he filmed in the same amount of time as it takes to watch two episodes. However, it is hilarious to hear his offended gut reaction to someone calling him "Asian Jim," which is definitely not like any reaction Jim Halpert ever had.
Passionate writer. Obsessed with anything and everything entertainment, specifically movies and television. Can get easily attached to fictional characters.