10 Randall Park Movie And TV Appearances You May Have Forgotten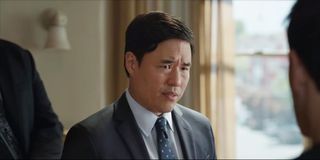 Randall Park, the star of movies like Always Be My Maybe, The Interview, and even Ant-Man and the Wasp, has been on a years-long roll as of late and continues to only build up more momentum with each passing project. And with his return to the Marvel Cinematic Universe in the Disney+ original Wandavision not too far down the road, Park's career only seems to be getting better all the time.
And while everyone remembers some of the Korean-American actor, comedian, and writer's biggest and most notable movies and TV shows like Fresh off the Boat, Aquaman, and Veep, Randall Park has a long list of appearances you may have forgotten; ones like Reno 911!, Curb Your Enthusiasm, The Five-Year Engagement, and even an episode of ER. Here are just ten of those movies and TV shows…
Steve (Asian Jim) - The Office
Diehard fans of The Office who are probably currently going through their seventh re-watch will remember Randall Park's character, Steve, aka "Asian Jim" from the Season 9 episode "Andy's Ancestry," but we'll break it down just in case someone has forgotten or doesn't know. Basically, Steve was one of Jim and Pam's actor friends who came in to play one hell of a prank on Dwight that leaves him questioning reality. The 2012 episode was released just a couple of years before Park reached the next level of his career with his portrayal of Kim Jong-un in the controversial 2014 comedy The Interview, but the future star had already started to make his mark in movies and TV.
Mailman - Reno 911!
Nearly a decade before Randall Park made a one-off appearance on The Office, the up-and-coming comedian did what most people in his case did in the early 2000s — he showed up on the Comedy Central Cops parody Reno 911!. In the 2003 episode "Dangle's Moving Day," Park plays a terrified mailman who is being attacked by a pair of lunatics armed with paintball guns and an endless supply of pain for anyone and everyone who crosses their path. This is a blink and you'll miss it kind of role, but Park's over-the-top delivery as he's trying to escape the onslaught of paintballs is classic comedy.
Ming - The Five-Year Engagement
The 2012 romantic comedy The Five-Year Engagement has two of the biggest movie stars of the era in Jason Segel and Emily Blunt, but the supporting cast in the story about a San Fransisco chef and PhD graduate putting off their marriage for years on end is equally as impressive. Most will remember Chris Pratt, Alison Brie, and Rhys Ifans, but Mindy Kaling, Kevin Hart, Kumail Nanjiani, and Randall Park, who appears as a graduate student by the name of Ming, all show up in before-they-were-famous roles. Ming is mostly seen doing crazy experiments. like the one in Tom's (Segel) birthday email to Violet (Blunt). In just a couple of years, Park would be a bonafide comedy star, like the rest of the supporting players here.
Himself - Wild 'N Out
Nick Cannon's long-running sketch comedy show and improvisational game show Wild 'n Out served as the launching pad for everyone from future Saturday Night Live players Pete Davidson and Mikey Day, Katt Williams, and even Kevin Hart. Another name that is often forgotten is Randall Park, who appeared on the show from 2005 to 2007. With so many episodes and future stars being featured over the years, it's easy to forget a few of them, especially considering Park was in the infancy of his career at the time of his appearances.
Doctor - Curb Your Enthusiasm
There are more awkward encounters on Curb Your Enthusiasm than pretty much any other show in the history of television, and Larry David's run-in with Randall Park's character (Doctor) in the Season 7, Episode 9 episode "The Table Read," is near the top of that list. After a hilarious misunderstanding about David's relationship with a young girl, Park's character calls the cops as the show's theme music kicks in. This brief appearance is probably overshadowed by the insane cast featured in the episode (it's essentially a Seinfeld reunion), but Park's facial expressions and demeanor as he thinks he's dealing with a pedophile is pure comedy.
Trainee Wong - Larry Crowne
The 2011 comedy Larry Crowne probably isn't anyone's favorite Tom Hanks movie, but it's certainly not the worst movie out there either. One thing most can agree on is the talent of the supporting cast, which included Rami Malek, Taraji P. Henson, Bryan Cranston, and even Randall Park, as Trainer Wong, Larry Crowne's (Hanks) coworker on the day he is fired for not having a college degree. It's a brief appearance and came a couple of years before Park hit it big, but it's saying something when his scene is featured in the opening moments of the film's trailer.
Dr. Colin Lee - The Mindy Project
Mindy Kaling's long-running comedy series The Mindy Project featured an insanely talented main cast, but the incredibly deep roster of recurring characters and actors is just as impressive. With Mark Duplass, Chloë Sevigny, Bill Hader, and Ellie Kemper all showing up from time to time, it should come as no surprise that some, like Randall Park, would get lost in the shuffle. Park appeared as Dr. Colin Lee, an ophthalmologist and Mindy's friend on three episodes between 2013 and 2014 (when the show was still on Fox).
Yong-Jo Pak - ER
Randall Park has played a doctor on multiple occasions, but he appeared on the other end of a medical drama very early on in his career on a 2004 episode of ER. Appearing only briefly as Yong-Jo Pak, Park plays the brother of a woman who attempts to hide her pregnancy until the baby is born, and even then bounces between shock and denial.
Brad - House
One year after popping up on ER, Randall Park appeared on House as a character by the name of Brad who was in serious need of medical attention after he attempted to perform an at-home circumcision on himself. That description and the sight of the blood on Brad's pants are enough to make this a memorable moment yet one that you want to forget at the same time.
Crime Boss (Voice) - Community
Fans of Community will probably remember Randall Park's appearance as himself in the final seasons of the cult comedy series, but he also appeared (or at least his voice) in the show's first season back in 2010. In the episode "Romantic Expressionism," Park's voice can be heard in fake science-fiction action flick Kickpuncher as a character by the name of Crime Boss. Not seeing Park in this role is most likely the reason it's often forgotten. But that's not all, Park also appeared in the Greendale Community College webisodes.
This is just a small sampling of all the Randall Park movie and TV appearances you may have forgotten over the years. If your favorite didn't make the list make sure to sound off in the comments.
Your Daily Blend of Entertainment News
Philip grew up in Louisiana (not New Orleans) before moving to St. Louis after graduating from Louisiana State University-Shreveport. When he's not writing about movies or television, Philip can be found being chased by his three kids, telling his dogs to stop barking at the mailman, or yelling about professional wrestling to his wife. If the stars properly align, he will talk about For Love Of The Game being the best baseball movie of all time.