Grey's Anatomy Killed Off A Key Character In The Spring Premiere, But Not Who I Expected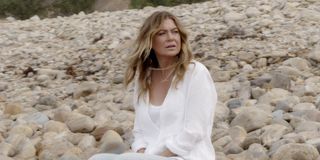 (Image credit: ABC Press)
Major spoilers ahead for the spring premieres of Grey's Anatomy and Station 19. Don't read further if you haven't seen the crossover episodes for both shows and don't want to know what happens.
Grey's Anatomy fans have waited a long time for Season 17 to resume, and the crossover event that started with Station 19 delivered on the action and the emotion, as viewers saw one of the Grey-Sloan Memorial's own die before the end of the two hours. The winter finales of Grey's Anatomy and Station 19 left multiple characters in precarious positions, none more than Meredith Grey, who took a turn for the worse in her fight with COVID. But after the teaser promo for the crossover event had Richard Webber telling Miranda Bailey, "Something's happened," I was really concerned for Bailey's firefighter husband Ben Warren.
In the end it was Andrew DeLuca who didn't return from Meredith's beach after being stabbed during Station 19's "Helplessly Hoping," as he chased down sex trafficker Opal. The first half of the Seattle crossover showed Andrew and Carina DeLuca's trek across Seattle in pursuit of Opal. After Andrew followed Opal off of a train, he was stabbed by a man in the station. Andrew's medical emergency set up the seamless transition into Grey's Anatomy's "Helplessly Hoping," where we see Andrew being rushed into surgery, while simultaneously meeting up with former flame and equally unconscious Meredith on her dream beach.
DeLuca appeared to be okay pretty quickly — way too quickly — with an intolerably cranky Owen Hunt teaming up with Teddy Altman on a difficult operation. But with DeLuca still on the beach with Meredith — and everybody's way-too-lighthearted attitudes — I had a feeling his recovery might not be as neat and clean as it seemed. Sure enough, DeLuca took a turn for the worse, and Owen — well, Owen seemingly just ripped open DeLuca's chest while he was still conscious! Owen was unable to save DeLuca, and it got a little dusty in my room when Andrew ran across the beach into the arms of his late mother.
In hindsight, DeLuca's death was telegraphed throughout both episodes of the crossover. Andrew continuously justified his possibly reckless pursuit of Opal by saying he had to make things right and prove he wasn't like his father, who had killed four people during a manic episode. Andrew and his sister had an extended heart-to-heart on the train about their parents' divorce and why they were split between their parents growing up. And on top of the flippant attitudes of every doctor surrounding Andrew post-op, the fact that Carina was able to assure Andrew that both Opal and the man who stabbed him were arrested gave closure to the character.
Not to be insensitive, but I was just relieved I'd been wrong about my prediction of Ben Warren dying. It would have made sense to me, though, as Station 19 regular Ben would be an obvious choice for a crossover character, as he was previously a Grey's regular before his exit birthed the spinoff. And then there were Webber's foreboding words in the promo. But it would have been so cruel for Ben and Miranda's story to play out like that. Miranda is still grieving her mother's death from COVID, and the couple has been quarantining apart through it all. I am really wishing only happy things from here on out for Grey's Anatomy's most solid couple.
Other than her unconscious beach scenes, Meredith didn't play a big role in the spring premiere, and her fate — as well as the series itself — remains up in the air. Will there be more beach reunions to come? We've got some ideas about characters we'd like to see. Tune in to find out when Grey's Anatomy returns next Thursday at 9 p.m. ET, following Station 19 at 8 p.m. ET. on ABC.
Mom of two and hard-core '90s kid. Unprovoked, will quote Friends in any situation. Can usually be found rewatching The West Wing instead of doing anything productive.
Your Daily Blend of Entertainment News
Thank you for signing up to CinemaBlend. You will receive a verification email shortly.
There was a problem. Please refresh the page and try again.