Grey's Anatomy: All The Relationship Statuses Before Season 17 Returns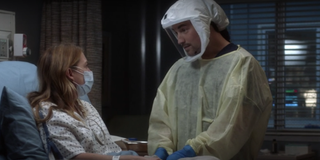 Spoiler Alert! If you're not caught up on Season 17 of Grey's Anatomy, you may not want to keep reading!
Relationships have always been an integral part of Grey's Anatomy, at least as important, if not more, than anything medical, and while the COVID-19 pandemic is dominating Season 17's story lines, there's still plenty going on in the doctors' romantic lives. Grey's Anatomy went on a longer-than-expected break after its winter finale, so let's get caught up on where everyone's relationships stand as we wait impatiently for new episodes.
Meredith Grey
Cormac Hayes: Grey's Anatomy showrunner Krista Vernoff teased a love triangle for Meredith Grey (Ellen Pompeo) with fellow doctors Andrew DeLuca (Giacomo Gianniotti) and new peds specialist Cormac Hayes (Richard Flood), but it's been a slow-moving process so far in Season 17. The medical issues that Meredith and DeLuca faced didn't leave much time for a romantic story line, but Hayes — or "McWidow," as he's been deemed — seemed to be in gentle pursuit of Meredith before she caught COVID. Being that Hayes was a gift to Meredith sent by Cristina Yang, I don't expect this story to fizzle until it's seen more light.
Andrew DeLuca: Though Meredith and DeLuca hadn't been romantically involved in a while, it was obvious they cared for each other as DeLuca battled manic episodes and Meredith struggled with COVID after collapsing in the hospital parking lot. When DeLuca came to her bedside after she regained consciousness, he told her it was nice to hear her voice, and there was no indication the flame between them had gone out. I'm thinking this love triangle will gain some steam as Season 17 continues.
Derek Shepherd: Of course, the Season 17 winter finale ended on a huge cliffhanger regarding Meredith's battle with COVID. As Patrick Dempsey teased that McDreamy will make appearances throughout the season, is it possible Meredith doesn't survive and is reunited with her late husband? I don't think so, but the finale definitely left that door open.
Jo Wilson Karev And Jackson Avery
Because the "friends with benefits" idea always works out, the first part of Season 17 showed Jo Wilson (Camilla Luddington) recruiting Jackson Avery (Jesse Williams) to be her "sex bridge" after husband Alex Karev so unceremoniously left her to reunite with Izzie Stevens. They each agreed they're not in a place to be in a relationship right now, so the plans were to keep things casual. There is no longevity for this story, so one way or another, I expect this situation to take a turn.
Miranda Bailey And Ben Warren
Miranda Bailey (Chandra Wilson) and Ben Warren (Jason George) are one of Grey's Anatomy/Station 19's strongest couples. But between quarantining apart and Miranda's mother dying from COVID, it certainly hasn't been an easy road for the two personally. Bailey got a lot of support from her Grey-Sloan comrades as she grieved for her mother, but it remains to be seen if and how going through that while being away from Ben will affect their relationship.
Levi Schmitt And Nico Kim
Levi Schmitt (Jake Borelli) and Nico (Alex Landi) were hooking up again, because Levi wanted a "designated sex partner," for the pandemic, as apparently recommended by the Dutch government. "It's wartime, but I still have needs," according to Levi. Too bad those needs don't yet include a boyfriend who is actually decent to him.
Amelia Shepherd And Link
As if Amelia Shepherd (Caterina Scorsone) and Link (Chris Carmack), didn't have enough going on with their infant son Scout, they took primary care duties of Meredith's three kids while Meredith was in the hospital with COVID. The two struggled with their differences in how they coped with stress, with Amelia being more frantic and Link always determined to see the silver lining, but they seemed to be working through that fairly well by communicating their needs. These two balance each other well and obviously care about each other. Link did seem a little thrown off, however, when he learned that Amelia had slept with Tom Koracick.
Richard Webber And Catherine Fox
Richard (James Pickens Jr.) and Catherine (Debbie Allen) have had a tumultuous marriage, to put it lightly, most recently due in part to Richard having an inappropriate relationship with another woman and Catherine spite-buying the Pac-North hospital, where Richard went to work after Catherine fired him from Grey-Sloan. Catherine seemed ready for reconciliation following Richard's near-death experience by cobalt poisoning, but Richard was still as mad as ever when he woke up from surgery. But after Catherine gave Richard a sincere (and rare) apology and made him Chief of Chiefs at Grey-Sloan, all was forgiven again... for now, at least.
Teddy Altman/Owen Hunt/Tom Koracick
After Teddy Altman (Kim Raver) slept with Tom Koracick (Greg Germann) on her and Owen Hunt's wedding day, which was overheard by a whole surgery team via Owen's voicemail, Teddy admitted to Owen that she had been in love with her friend Allison, their daughter's namesake. Teddy told Owen she knew that fact is related to what happened with Tom, but she wasn't sure how. Owen laughed cruelly at Teddy and said he never knew her at all. "We named our daughter after a lie."
As for Koracick, Teddy didn't sound like she was ready to let him go, as she sat at his bedside after his COVID took a bad turn. At the very least she wanted to salvage their friendship, saying there was a ray of hope for them. He woke up and the two shared a strange, flirty exchange, with Tom suggesting a sponge bath, "but, you know, as friends." With Owen's firm rejection of Teddy in the winter finale, I'm not shutting the door on Tom and Teddy just yet.
Maggie Pierce And Winston
Coming into Season 17, fans were excited to see the relationship blossom between Maggie Pierce (Kelly McCreary) and Winston Ndugu (Anthony Hill). Unfortunately with the circumstances, the contact between the two has remained virtual. Maggie and Winston seemed to video chat regularly in the first handful of episodes of the season. In the winter finale, Winston abruptly told Maggie the long-distance thing wasn't working for him anymore. Maggie seemed confused but not overly concerned, and her instincts were right, as he showed up at her hotel door with a bouquet of flowers. All pretense of social distancing was thrown out, as Maggie grabbed Winston like she'd never let him go. It should be fun getting to see this relationship as the season progresses, now that they are in the same place.
Carina DeLuca And Maya Bishop
Although Carina DeLuca was still seen in the Grey's Anatomy crossover winter finale event, it looks like the majority of her story will be seen on Station 19, as Stefania Spampinato traded in a recurring role on Grey's Anatomy to become a series regular on the firefighter drama. After quarantining away from Station 19's Maya Bishop (Danielle Savre), after Maya cheated on Carina, the two reconciled and decided to move in together.
Grey's Anatomy returns Thursday, March 11, 2021, at 9 p.m. ET, immediately following its spinoff companion, Station 19, whose characters will be re-examining relationships of their own after an intense winter finale. And be sure to check out our 2021 Winter and Spring TV premiere schedule.
Your Daily Blend of Entertainment News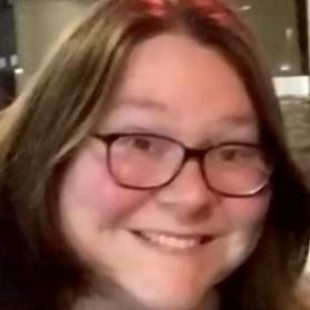 Mom of two and hard-core '90s kid. Unprovoked, will quote Friends in any situation. Thrives on New Orleans Saints football, The West Wing and taco trucks.