An NCIS: Los Angeles And Queen Latifah's The Equalizer Crossover? Here's Why LL Cool J Thinks It's A Good Idea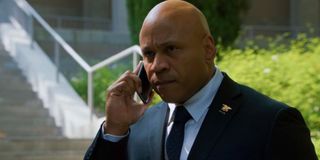 CBS' new series The Equalizer is already getting a ton of buzz. While the series can hold its own solo and boasts a big-name star thanks to Queen Latifah, the idea of a crossover between The Equalizer and NCIS: Los Angeles is something that longtime NCIS: LA star LL Cool J is not opposed to.
Queen Latifah stars in the Equalizer reboot as Robyn McCall, who balances her crime-fighting life with her duties as a single mother. During a conversation with Deadline at the virtual SXSW Film Festival, the actress explained that both she and LL Cool J feed off each other's success and seeing each other open doors. As to doors being opened, LL Cool J would love to do a crossover with the new series:
Just after the premiere, CBS decided to renew The Equalizer for a second season, much to cast and fan appreciation. The renewal definitely gives writers room to include a crossover with NCIS: LA, especially since the new series currently serves as a lead-in to NCIS: LA. LL Cool J's reasoning makes sense, for fans who already watch The Equalizer and NCIS: Los Angeles as well as newcomers to one or the other drawn to give the show a shot if there is a crossover. But just how would that storyline fit in with the other?
Meanwhile, even without a crossover with The Equalizer, the NCIS franchise is going through some changes. It was recently revealed that CBS is developing a Hawaii spinoff of the procedural, and members of the NCIS: LA cast could barely contain their excitement about the new addition. If The Equalizer does join the NCIS universe (which is losing NCIS: New Orleans this year), it would be the latest in the ever-growing franchise. Other shows part of the NCIS universe include JAG (which is what NCIS originated from), Magnum P.I., Hawaii Five-O, MacGyver and Scorpion.
Although CBS has yet to renew NCIS: Los Angeles for a 13th season, it wouldn't be a surprise if news were to come soon, although the future of NCIS itself is uncertain and NCIS: NOLA is just a couple of months away from ending. But how exactly the Equalizer reboot would fit in with the NCIS universe is a question for another day. Seeing that there are already so many shows involved, it wouldn't be hard adding another one to the list, especially if some of the cast members are already so close to each other.
Passionate writer. Obsessed with anything and everything entertainment, specifically movies and television. Can get easily attached to fictional characters.
Your Daily Blend of Entertainment News
Thank you for signing up to CinemaBlend. You will receive a verification email shortly.
There was a problem. Please refresh the page and try again.