The Equalizer Cast: Where You've Seen The TV Show's Stars Before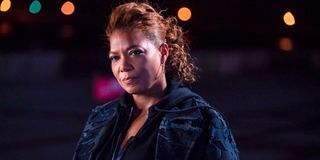 Fans were a bit surprised when it was announced that Queen Latifah was all set to take over the badass, justice-finding shoes of The Equalizer in a new CBS show. Obviously, we all love us some Latifah, but for those who were thinking we'd be treated to someone closer to Denzel Washington's film version or Edward Woodward's '80s TV version of the do-gooder, the move probably came out of left field.
Luckily, the Oscar nominee is more than capable of righting the many wrongs done to the oppressed and exploited, and The Equalizer cast is similarly filled with other talented, familiar faces (like Chris Noth) to help her in those efforts. So, let's take a look at where you've seen all of the major players before!
Queen Latifah (Robyn McCall)
As our exceedingly skilled former CIA operative who's now dedicating her life to helping those with nowhere else to turn, is Queen Latifah. It would be a true shock if you've never seen this dynamic multi-hyphenate before, as she's been making moves in the entertainment industry as a rapper/singer/actor/producer/talk show host since she burst onto the scene with her debut album, All Hail the Queen in 1989.
Since then, Latifah has lent her considerable talents to appearances in properties like The Fresh Prince of Bel-Air, Jungle Fever, House Party 2, and The Bone Collector. She transitioned to leading roles in the hit sitcom Living Single, and the recent Fox drama Star, and films like Set It Off, The Perfect Holiday, Beauty Shop, Hairspray, The Secret Life of Bees, Just Wright, and the Ice Age franchise. In addition, Queen Latifah got an Oscar nomination for Chicago in 2003, and won an Emmy in 2015 for Lead Actress in a Limited Series or Movie for HBO's Bessie.
Chris Noth (William Bishop)
Robyn's former CIA handler and long time friend, William Bishop, helps her in her new mission on The Equalizer, and he should easily be recognized by fans of the original Law & Order and Sex and the City, as Chris Noth played major parts in each of those iconic television shows. But, his parts as Detective Mike Logan and Mr. Big, respectively, are far from the only places where you could have seen him.
Noth had short runs in the mid-80s on both the soap opera Another World, and the long-running cop drama Hill Street Blues, and soon moved on to TV movies and mini-series like I'll Take Manhattan, At Mother's Request, and Nothing Lasts Forever. Of course, Noth also reprised his role as Detective Logan for Law & Order: Criminal Intent from 2005-2008, and appeared more recently in Tyrant, Catastrophe, and Doctor Who, but is also known for his seven season stint as a very bad husband on the CBS legal drama The Good Wife.
Lorraine Toussaint (Viola "Vi" Marsette)
This time around our Equalizer has some family to deal with. As Robyn's Aunt Vi, we have stage and screen veteran Lorraine Toussaint, who is probably most recognizable from her short, but impactful, stint as inmate Yvonne 'Vee' Parker on Orange Is the New Black.
Toussaint's career, though, goes way back to before her time on the Netflix hit. Her first screen credit was the in TV movie The Face of Rage in 1983, and she's gone on to appear in over 100 film and TV projects. These include 227, Dangerous Minds, Any Day Now, Crossing Jordan, Law & Order, CSI, Ugly Betty, Friday Night Lights, Rosewood, The Fosters, and Into the Badlands. Lorraine Toussaint has also voiced a few video game and animated characters, including the Shadow Weaver on Netflix's She-Ra and the Princesses of Power.
Liza Lapira (Melody "Mel" Bayani)
Everyone needs friends they can trust, and Liza Lapira's edgy bar owner, Mel, is that for Robyn as she helps in her mission to find justice for the downtrodden. Lapira has mostly been known for her roles in sitcoms over her 21 year career, with parts in series such as Don't Trust the Bitch in Apartment 23, Royal Pains, Super Fun Night, Battle Creek, Cooper Barrett's Guide to Surviving Life, and Con Man.
Lapira has also been featured in more dramatic work like Law & Order: SVU, Dexter, NCIS, Fast & Furious, Cloverfield, Dollhouse, and most recently, The CW's Nancy Drew.
Adam Goldberg (Harry Keshegian)
You might not immediately recognize Adam Goldberg as paranoid, white-hat hacker Harry Keshegian when you see him on The Equalizer, but you have definitely seen the veteran of nearly 100 film and TV projects during his 31 years on screen. Because of repeats and binge-viewings, Goldberg might always be best known for his three episode stint as Chandler's irritating and excessively weird non-Joey roommate, Eddie, on Friends.
But, Goldberg has been in a wealth of other projects over the decades, including Saving Private Ryan, A Beautiful Mind, How to Lose a Guy in 10 Days, Joey (where he did not reprise his role as Eddie), Entourage, the first season of Fargo, NBC's Taken series, and, most recently, God Friended Me.
Tory Kittles (Detective Marcus Dante)
Every vigilante like Robyn McCall needs a dogged law enforcement officer who's hot on her trail, and The Equalizer has that in Tory Kittles' Detective Dante. His appearance here is actually a reunion of sorts, as he's worked with Queen Latifah twice before, in Bessie and the 2012 TV movie Steel Magnolias. However, Kittles has plenty of credits besides those, and has lent his talents to projects such as Tigerland, Phone Booth, Get Rich or Die Tryin', Miracle at St. Anna, Sons of Anarchy, Olympus Has Fallen, True Detective, Colony, and recently portrayed Frederick Douglass in Harriet.
Laya DeLeon Hayes (Delilah)
Robyn's teenaged daughter, Delilah, may be too smart and observant for her mom to keep her mission secret from her for long, and any doubts we see Delilah have will surely be well-communicated by Laya DeLeon Hayes, who got her first acting credit for voicing a character in the League of Legends video game in 2009. Since then, the young star has been on Grey's Anatomy, Cougar Town, Chicago Fire, Liv and Maddie, Quantico, Code Black, Raven's Home, and Just Add Magic. DeLeon Hayes is also known for her voice work in Kung Fu Panda: The Paws of Destiny, and for playing the title character in Doc McStuffins.
Now that you know where you've seen (and heard) the main cast of The Equalizer before, here's hoping you enjoy the new show even more!
Bachelor Nation, Gilmore Girl; will Vulcan nerve pinch pretty much anyone if prompted with cheese...Yes, even Jamie Fraser.
Your Daily Blend of Entertainment News
Thank you for signing up to CinemaBlend. You will receive a verification email shortly.
There was a problem. Please refresh the page and try again.