Who Is The Masked Singer's Grandpa Monster? Here Are Our Best Guesses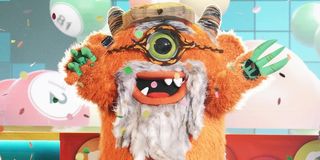 The Masked Singer Season 5 is moving right along, and with every passing week, viewers and judges get that much closer to discovering the identities of its competitors. This season has definitely made guessing more of a challenge with its wild card competitors and some contestants who could be any number of people. One example of that is Grandpa Monster, who the internet has had trouble tracking down.
Grandpa Monster, who is the latest Monster to grace the program, isn't the best singer the Fox series has seen. He does have a lot of energy, though, and can hop around quite a bit. With those minor details out of the way, let's dive into the clues given so far and see if we can't figure out who this mystery competitor may be.
The Clues
The first clue package for Grandpa Monster showed a chalkboard with X's and O's, with a play that made the number 6. Grandpa Monster was in a classroom and mentioned "acting out." He received a test score of 97%, and a spider-web was seen catching a star. The scene then cut to a beach, in which Grandpa Monster said he hoped people weren't afraid of who he was years ago.
The general gist seemed to be that Grandpa Monster is someone who is both an actor and athlete and also an internet star. It's also someone with a controversial kind of past that may give them a bad reputation in the public eye. That's a pretty specific description, but as we'll see in the options below, the clues hit the mark for more than a few folks.
O.J. Simpson
When it comes to celebrities with a complicated past, it's hard to top O.J. Simpson. The football star and actor's prior accolades were all but forgotten after he was accused of murdering his ex-wife and her friend. Simpson was found not guilty and has garnered more controversy in years with publicity stunts and actual time in prison. He's out now, though, and certainly has the time in his schedule to cover The Masked Singer if asked. Plus, the "X's" and "O's" part could refer to his football past, and that acting reference also is right in line with Grandpa Monster.
Jake Paul
Even if you're not someone who frequents YouTube, it's hard to avoid the headlines surrounding Jake and Logan Paul these days. The brothers started out on Vine and have cultivated a massive online following via their respective YouTube channels. Jake Paul had a brief stint on Disney Channel, but after a few controversies, parted ways and entered the fighting circuit. Jake Paul is certainly a controversial figure, though one that may be a little more television-safe for The Masked Singer than O.J. Simpson.
Mike "The Miz" Mizanin
Mike "The Miz" Mizanin started out on The Real World: Back To New York, but most people would know him now as one of WWE's biggest stars. The Miz has had notable title runs within the WWE, and as one of the brand's more charismatic stars, has appeared in shows, movies, and even has his own reality television series. With that said, most of his notable controversies exist solely in the world of the WWE, where he's one of the greatest cowardly heels the brand has seen in some time.
Michael Rapaport
Actor Michael Rapaport was certainly not my first guess for The Masked Singer, though a recent theory on Reddit about him being Grandpa Monster certainly is compelling. Obviously, the acting clues add up, and the theory pointed to Rapaport's deep involvement in fantasy football as well as his involvement in the football movie The 6th Day. It's certainly a compelling argument, but could Rapaport be on The Masked Singer?
Our Best Guess
I have to admit, the guess for Michael Rapaport is really good, but I just don't know if Rapaport can move or sing like we saw Grandpa Monster did in his first performance. Plus, Rapaport is without a doubt famous, though I'd say he was a television star and movie star long before he was ever someone to be associated with fame on the internet. I'm not fully ruling it out, but for the moment, I'm not hitching my wagon to this guess compared to the one I'm fully on board with.
Right now, I'm feeling pretty good that The Masked Singer's Grandpa Monster is Jake Paul. The brief stint in acting, the current sports fighting career, and the fact that he's a huge YouTube star all connect the dots clue-wise, though I'll admit there are some more connections that I haven't been able to track down yet.
One thing I do feel pretty sure about, however, is the voice match. The first performance of Lou Bega's "Mambo No. 5" definitely sounds like Jake Paul, especially when you mix it with one of his rap videos floating around on YouTube. Plus, the way Grandpa Monster dropped down to his knees and jumped back up again definitely indicated that it's someone young and in decent shape, and Jake Paul is certainly the best candidate for that on this list.
As far as how confident I am on this guess, I'm going to say I'm at 80%. Ultimately Grandpa Monster could also be some professional athlete that's far less obvious than most other celebrity guesses. With that said, I do think there's enough compelling evidence here to say Jake Paul is definitely a strong possibility and the voice of Grandpa Monster sounds very similar. If it does happen to be the Team 10 YouTuber, I'm personally hoping he'll call out Conor McGregor or some other pro-fighter after losing and then show up to the fight dressed in the Grandpa Monster attire.
The Masked Singer airs on Fox Wednesdays at 8:00 p.m. ET. Do you agree with our pick for Grandpa Monster? Sound off in our poll, and for more guesses on The Masked Singer, read up on the one clue that may have blown Seashell's secret identity sky high.
This poll is no longer available.
Mick likes good television, but also reality television. He grew up on Star Wars, DC, Marvel, and pro wrestling and loves to discuss and dissect most of it. He's been writing online for over a decade and never dreamed he'd be in the position he is today.
Your Daily Blend of Entertainment News
Thank you for signing up to CinemaBlend. You will receive a verification email shortly.
There was a problem. Please refresh the page and try again.