The Miz Won The WWE Title, So What's Going On With Bad Bunny, Drew McIntyre And WrestleMania?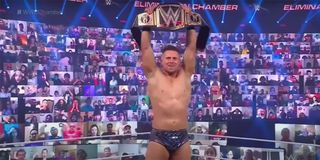 It wasn't exactly a surprise to see The Miz cash in the Money In The Bank Contract last night at Elimination Chamber. The Awesome One was pretty direct about his intention for weeks to the point where he gave up his spot in the main event to help make it easier. What was far more of a surprise, however, at least to me, was to see The Miz actually win the title off Drew McIntyre. Nothing about it was clean, of course, but it happened with an assist from Bobby Lashley and now it has many WWE fans asking what the hell is going on, given the other storylines in play. Let's talk it out.
Before we get into the meat and potatoes here, though, let the record show I'm very happy to see the WWE Championship back around the Miz's waist. He's a tremendous heel. He's good on the microphone. He pretty famous. His in-ring skills are solid, and he drops hilarious Instagram posts patting himself on the back. Yeah, he's not the strongest, the toughest or the most talented WWE Superstar. I don't want him to have some crazy multi-year reign like he's the second coming of Bret Hart, but as a transitional champion, I'd rather see someone like the Miz than someone else that looks more physically imposing but can't figure out how to draw real heat. The goal is to tell a good story, and The Miz always helps tell a good story. So, good for him. He's earned it by doing good work, even when WWE had his character in some lousy situations.
OK. Now that I'm done patting The Miz on the back, let's talk about the real questions WWE needs to figure out answers to, and there are actually quite a few here between Drew McIntyre, Bad Bunny, Bobby Lashley, Sheamus, Riddle and more. Unfortunately, I'm not on the writing staff (yet!), but I will still do my best to guess where I think this is all going…
How Long Will The Miz's Title Reign Last?
I'm having a hard time imagining The Miz as the long-term WWE Champion. He hasn't been booked with enough strength. He required way too much help to win the title, and I don't really see any reason why the WWE wouldn't want Drew McIntyre and Roman Reigns to continue being the faces of the company.So, if we're agreed the Miz isn't the right fit as the long-term champion, the question is where is he going to lose the belt. I think there are two good options: Monday Night Raw tonight or the Fastlane PPV on March 21st (which will be the first on Peacock).
It's possible he could lose the belt back to Drew McIntyre tonight on Raw. That would give WWE bookers some options to play with as far as who McIntyre's opponent should be at Fastlane, but that feels like a waste to me. The Miz dodging McIntyre for a week or so before being roped into a match at Fastlane feels like a fun storyline that would tease out the match and allow both men to play to their strengths. So, my guess is they face each other at Fastlane and McIntyre wins the belt cleanly.
What's Going On With Bad Bunny?
The Miz, Morrison, Damian Priest and Bad Bunny have been a pretty direct storyline for awhile now. Priest eliminated The Miz during the Royal Rumble. They had a bit together during the Elimination Chamber PPV. There have been a ton of TV segments. This is clearly all been building toward some kind of tag team match that would allow the WWE to hype Bad Bunny (who just got cast in a Brad Pitt movie, appeared on Saturday Night Live and is putting up huge record sales) and launch Damian Priest, who got a huge push during the Royal Rumble.
WrestleMania has a long history of incorporating celebrities into storylines. In fact, the main event of WrestleMania XI was Lawrence Taylor and Bam Bam Bigelow. Clearly Bad Bunny is going to be used somewhere, and it makes sense for him to be used with The Miz or else why have they been in so many segments together? But I don't see any reason why they would give Bad Bunny a title shot. So, expect The Miz and Bad Bunny to fight in some capacity, whether it be singles or a tag match at wrestling's biggest event, but don't expect the belt to be involved.
Who Will Drew McIntyre Fight At WrestleMania?
To me, there are three possible options for Drew McIntyre at WrestleMania. The first is he'll get his rematch with The Miz there. I don't think that's going to happen because it doesn't make sense with the Bad Bunny storyline, and it's not the most exciting match possible for Drew. I love the Miz, but based on how they've been booked the past six months, they can't go toe-to-toe in a back-and-forth match without interference, which is a snooze for a WWE Championship match at Mania.
That leaves Sheamus, which is the ex-best friends storyline WWE has been building for a few weeks and Bobby Lashley who attacked Drew McIntyre at Elimination Chamber on the orders of Miz and MVP. Sheamus and McIntyre kind of sort of fought in the Elimination Chamber, but that's not the same thing as having a straight up match. That feud has to get resolved at some point, but I kind of like the Lashley angle in the short-run. He's been dominating people for awhile. Poor Riddle has been ragdolled on what feels like a weekly basis. He's a believable opponent to beat McIntyre in a straight up slugfest. If that match happens, it'll also give Sheamus something to do. He can be outraged that he got passed over for his shot, and he can circle back with McIntyre later.
Will Bobby Lashley Try To Regain His United States Championship?
The answer to the last paragraph ultimately depends on what direction WWE wants to take Bobby Lashley in. He's been dominant for a long time. He may have lost the belt last night, but he lost it during a triple threat match after he was hit with a foreign object, and he wasn't even involved in the finish. Ordinarily he would get a very quick chance at redemption to win his belt back, but that rematch isn't going to happen if WWE wants to elevate Bobby Lashley into main event status. He'll just move on because he has bigger things to focus on.
So, I think either Bobby Lashley will continue his feud with Riddle and get a chance to win his United States Championship belt back, or he'll enter into a feud with Drew McIntyre that will culminate in a match at Wrestlemania for the WWE Championship McIntyre will have at that point won back the belt from The Miz. My guess is it'll be one of the main events at Wrestlemania (alongside Edge and Roman Reigns and probably Sasha Banks and Bianca Belair). It just strikes me as more interesting than Sheamus and McIntyre, but I guess we'll just have to wait and see.
Your Daily Blend of Entertainment News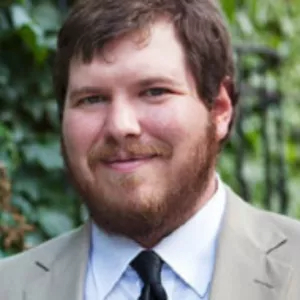 Enthusiastic about Clue, case-of-the-week mysteries, a great wrestling promo and cookies at Disney World. Less enthusiastic about the pricing structure of cable, loud noises and Tuesdays.