6 Law And Order: Organized Crime Takeaways From Christopher Meloni's New SVU Spinoff Premiere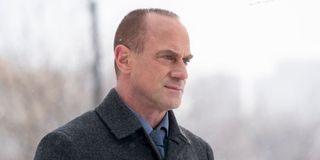 (Image credit: NBC)
Spoilers ahead for the Law & Order: SVU and Law & Order: Organized Crime crossover event.
Christopher Meloni made his very long-awaited return to the Law & Order universe for the two-part crossover event with SVU that launched his Organized Crime spinoff. Before Stabler could head over to his own show to start battling the organized crime of New York City, he had to face up to how he left Benson and Co. behind when he unceremoniously quit all those years ago. SVU set up the Organized Crime premiere, and now it's time to look at what to take away from the two episodes.
As somebody who had been hoping against hope that Stabler would one day show his face again on SVU for years, I was excited about his return for Organized Crime but tried not to go in with any expectations. (Except for an apology from Stabler to Benson, that is.) Read on for some takeaways from Stabler's return and the first episode of the new series!
Serialization Is A Good Thing
Kathy Stabler was brought back to SVU only to be tragically killed off, setting her husband on a mission to find justice for her murder. Stabler was mourning and mad when Organized Crime picked up, and a mad Stabler doesn't just let things go. It wouldn't have been realistic if Organized Crime just resolved this case or gave Stabler closure by the time the final credits rolled. Fortunately, the case is still unfolding, and Christopher Meloni has already revealed that Organized Crime will spend the first eight episodes focused on this one case, which marks a big difference from SVU. It might be hard to drop in and out of Organized Crime with serialization, but it's what make the most sense.
Organized Crime Needed The SVU Launch
The Law & Order: Organized Crime series premiere was actually pretty procedural despite being driven by Stabler's personal vendetta, and I have to say that the episode might have lost my interest without Stabler as such an established character. Any episode featuring Christopher Meloni back as Stabler would likely do well, especially with the big promotional push Organized Crime was given by NBC, but it was the promise of the reunion with Benson that really built the hype and added layers of heart to his return. Benson (and Fin, to a lesser extent) humanized Stabler after years away, and their investment in him made it easier to care about the case and follow to Organized Crime.
Christopher Meloni And Mariska Hargitay Still Have 'It'
A big part of NBC's promotional push for Law & Order: Organized Crime and Christopher Meloni's return centered on the inevitable reunion with Benson, even though Meloni himself hinted that fans might find the reunion unsatisfying. It might have been hard to buy that they fell back into their old rhythm and were having emotionally loaded conversations after so long if not for Meloni and Hargitay's chemistry, which was a big part of the appeal of the show in the early years and, as SVU/Organized Crime revealed, was not lost over the years of their separation as coworkers. Whatever they had that made Benson/Stabler so special back when Stabler was an SVU regular, Meloni and Hargitay still have it.
Organized Crime Needs To Develop The New Characters
One downside of SVU giving Organized Crime such a strong launch is that revisiting all of Stabler's old relationships and habits on his old stomping grounds meant the SVU half of the crossover may have overshadowed the Organized Crime series premiere. To be perfectly honest, I didn't even catch the names or roles of all the new characters. I'm of the opinion that SVU has lasted as long as it has because of the characters and the relationships, not because 22 years of investigations into sexually-based offenses are fun to watch. Even though crossovers will continue, Organized Crime needs to develop the new characters now that the premiere has built the case.
Organized Crime And SVU Need To Be Careful With Crossovers
As somebody whose favorite parts of Law & Order: Organized Crime's series premiere were the ones featuring Benson crossing over, I have to say that Organized Crime needs to be careful with crossovers if the show is going to stand on its own. Fans really shouldn't want to watch Organized Crime just on the off-chance that Benson or Fin or anybody else turns up. At the same time, mini crossovers could help build a following for Organized Crime, so there's a balance that needs to be struck. If NBC can turn SVU and Organized Crime into a Law & Order Thursday block just like One Chicago Wednesday with Chicago Fire, Chicago P.D., and Chicago Med to strike that right balance, Organized Crime could become the next hit Dick Wolf show.
Elliot Stabler: International Man Of Mystery?
Now I'm going to be just a little bit finicky about the reintroduction of Elliot Stabler to the Law & Order franchise. SVU had established that Stabler retired from NYPD, so it came as a surprise when he revealed that he was actually serving as the NYPD's man in Rome. Personally, I was more surprised that the New York Police Department would even have a man in Rome than the actual reveal that Stabler was back in law enforcement, but it felt like such a leap to me that it pulled me out of the plot.
Ideally, Organized Crime will either elaborate on his time there to clarify the who, what, when, where, and how of Stabler becoming an NYPD detective in Rome, or ignore it as a sticky issue from the pilot, as pilots often have some messy elements that are changed/updated in the actual series. Only time will tell on how the new show fleshes out (or doesn't) the decade that Stabler was gone, and you can catch new episodes of Law & Order: Organized Crime on NBC Thursdays at 10 p.m. ET, following Law & Order: SVU at 9 p.m.
The Dick Wolf universe still isn't done growing, even if mega crossovers any bigger than what SVU and Organized Crime just pulled off may be unlikely for the foreseeable future. The two Law & Order shows are set in the same city as FBI over on CBS, and the NBC Dick Wolf shows do share a universe with the CBS shows thanks to Chicago P.D., but I wouldn't count on any Organized Crime crossovers with any show other than SVU any time soon.
Your Daily Blend of Entertainment News
Laura turned a lifelong love of television into a valid reason to write and think about TV on a daily basis. She's not a doctor, lawyer, or detective, but watches a lot of them in primetime. Resident of One Chicago, the galaxy far, far away, and Northeast Ohio. Will not time travel, but will sneak references to The X-Files into daily conversation.
Your Daily Blend of Entertainment News
Thank you for signing up to CinemaBlend. You will receive a verification email shortly.
There was a problem. Please refresh the page and try again.