Why Law And Order: SVU's Stabler Needs To Apologize To Benson Before The Spinoff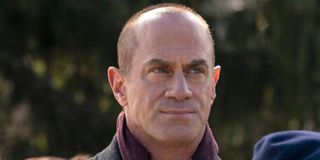 (Image credit: NBC)
Law & Order: SVU fans have been waiting for the return of Christopher Meloni as Elliot Stabler for the better part of a decade now, as the partnership between Stabler and Benson was one of the defining elements of the show through the first 12 seasons. Stabler unceremoniously departed Special Victims and left his longtime partner behind when he made the off-screen decision to retire, not giving Benson so much as a heads up. Stabler is coming back to SVU soon with an episode that will launch his Organized Crime spinoff, and I for one say that Stabler needs to apologize to Benson before his own series premiere if fans are expected to want to watch him anchor a show.
Benson found out about Stabler's retirement back in 2011 when Cragen dropped the news on her, not from Stabler himself, and she ended that episode crying alone without her longtime partner and closest friend. SVU hasn't dropped clues that they remained friends, and a whole lot has happened to Benson over the past decade that should have really brought him out of the woodwork.
Sure, Benson ultimately began to thrive after she got used to working without Stabler, and might not have reached her status as captain if she and Stabler had kept on keeping on in their detective dynamic. But damn it, I want an apology from Stabler for how he left! Admittedly, SVU didn't have a lot of options in how to write Stabler off due to Christopher Meloni's departure without returning for a proper on-screen farewell, and at least the show didn't kill him off off-screen. I know that there was probably no way that SVU could have delivered a really satisfying goodbye to the character.
For better or worse, Stabler left Special Victims without so much as leaving a note for Benson, and that has been gnawing at me all over again ever since I rewatched the clip of Cragen breaking the news to Olivia when I was considering ways Law & Order: SVU can handle the Benson/Stabler reunion. Mariska Hargitay of course crushed the scene, which means its was a heart-crushing performance:
The little bits of Stabler's return that have been released to hype the crossover between Law & Order: SVU and Organized Crime that will launch the spinoff only made me more determined that Benson needs an apology. I'm at the point where Stabler yelling "Liv!" feels a bit rich in the first promo that aired on NBC. Excuse me, detective, but you lost nickname privileges when you abandoned her for a decade!
Another promo that released on the Law & Order Instagram leads me to think that SVU will take some time to address Stabler's exit with his former coworkers, although it shows Fin calling him out rather than any scene with Benson. And Stabler's return will be tied to a devastating personal tragedy, so saying "I'm sorry" to Benson doesn't have to be the first thing on his mind when he crosses paths with her again. But the latest trailer for Organized Crime might point toward Stabler focusing more on... well, organized crime and letting everything else fall by the wayside. Stabler says:
Hey, as long as having a long overdue conversation with Benson is part of his process of making things right, I can go right along with Stabler going full unStabler in the face of tragedy if that's what SVU and Organized Crime want to do. SVU just really needs to show that the Stabler that fans knew and loved is still in there, despite whatever he's been up to for the past ten years and whatever tragedy he has to deal with in the crossover.
A lot of fans are very excited to see Christopher Meloni's return because they loved the Stabler from his 12 seasons on the show, and that Stabler from before Meloni's abrupt departure would say what needs to be said to Benson. I mean, is everybody really the most excited for Organized Crime because of the actual organized crimes? Or is it because – as the promos having been saying – Stabler is "coming home" for a long-awaited reunion?
Too much time has passed for Stabler to just drop back in on Benson. And Fin, of course, but the Season 13 premiere didn't end with Fin crying alone because his trusted partner Stabler up and left! I count myself as one of the many who have been hoping for Christopher Meloni to return as Stabler; now that it's happening, I just really want it to be done right, and done right by Benson. The SVU half of the crossover will probably have a lot going on, not least because more Stablers than just Elliot are returning, but time should be made for this.
At the end of the day, SVU has had ten seasons to make sure that viewers are probably on Team Benson here, and if viewers are going to be expected to want to follow Stabler over to Organized Crime, then the SVU episode needs to feature him apologizing and making amends to his old partner. If anything, some current SVU fans might not have even been watching the show back when Stabler was co-lead with Benson. Loyalties among a lot of fans probably lie with Benson, and Stabler apologizing to her might make it a whole lot easier for everybody to forgive him and see the appeal to watch his show.
Fortunately, the wait for Christopher Meloni's Law & Order franchise return and the debut of the SVU/Organized Crime crossover event is almost over. The crossover starts on Thursday, April 1 at 9 p.m. ET with an episode of Law & Order: SVU, followed by the series premiere of Organized Crime at 10 p.m. ET. The debut of Organized Crime after a series of delays means that the Dick Wolf universe is growing yet again, making it the fifth Dick Wolf show currently airing on NBC (along with SVU and the three One Chicago shows) and in the same TV realm as FBI and FBI: Most Wanted over on CBS.
Resident of One Chicago, Bachelor Nation, and Cleveland. Has opinions about crossovers, Star Wars, and superheroes. Will not time travel.
Your Daily Blend of Entertainment News
Thank you for signing up to CinemaBlend. You will receive a verification email shortly.
There was a problem. Please refresh the page and try again.