Why Station 19's Travis And Michael Flashback Couldn't Have Been Cuter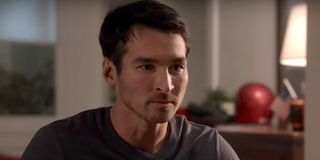 Spoilers below for the ninth episode of Station 19 Season 4, so be warned!
Station 19's "No One Is Alone" picked up right where the last episode left off — with Travis storming away after finding out that Vic was dating Theo, the man responsible for his husband Michael's death. So to balance that unthinkable drama, the latest episode gave fans an engaging and emotional window into Travis and Michael's relationship through flashbacks, including their uniquely spontaneous double proposal of sorts that was so cute I can't stop watching it.
A quick recap, for those who may not have watched: as audiences flashed back to 2011, Travis was having dinner at Michael and Theo's apartment, where he started talking about the kids he and Michael would hypothetically have someday. As Michael and Theo exchanged a knowing glance, Travis tried to walk it back, thinking maybe he'd gone too far too quickly with talk of children. But then Michael jumped up and pulled out an engagement ring, leading Travis to do the same, and you'll want to watch this one for yourself (over and over, if you're anything like me). The proposal scene starts just after the 2 minute mark, though it's all worth watching.
A double proposal twist! Was that not the most heartwarming thing you've ever seen? It has to at least make a Top 5 or something, even if it's just for the way they simultaneously popped the question as Theo recorded it with his phone.
As well as cluing viewers in on more details about Michael's death, the episode "No One Is Alone" filled in a lot of holes concerning how majorly Theo played into Travis and Michael's love story, and then how Theo ultimately contributed to Michael's death in the line of duty. Because Theo and Michael were best friends and roommates who came up together in the fire station, just like Travis and Vic did, it definitely showed why Jay Hayden's firefighter had such a strong reaction to Vic's relationship reveal.
Beyond than the fantastic proposal, shoe-horning Theo into the couple's life through the flashbacks did feel a little contrived. Having Theo there when Michael and Travis got engaged is believable enough, because Theo lived there and the proposals were spontaneous. But having him around for those other flashback conversations seemed to only serve the narrative purpose of mirroring the argument Travis and Vic were having in the present.
Travis had taken issue with Theo being promoted to firehouse captain so soon, and told Michael he was worried that Theo would make a bad call leading to Michael getting hurt. And after Vic and Travis argued about how quickly she moved on after Ripley's death, Flashback Michael made Flashback Travis promise to never love anyone again if anything would happen to him. Oh, and guess who it was who promoted Theo so quickly? Ripley, of course, just to make sure every uncomfortable dot was connected.
Even though we knew Travis and Michael's story would end in tragedy, with Theo indeed making a bad call that cost Michael his life, it was magnificently refreshing to see Travis in happier times, especially after what feels like non-stop misery since Station 19 returned for the spring. For now things are as they should be, with Vic and Theo a non-item, and Vic and Travis back to being BFFs. Minus a full on Michael resurrection, it was probably the best we could hope for.
I'll take any morsel of positivity they throw my way, especially with next week's crossover event with Grey's Anatomy sure to bring more heartache. Tune in at 8 p.m. ET on ABC for Station 19, followed by new Grey's Anatomy at 9 p.m.
Mom of two and hard-core '90s kid. Unprovoked, will quote Friends in any situation. Thrives on New Orleans Saints football, The West Wing and taco trucks.
Your Daily Blend of Entertainment News
Thank you for signing up to CinemaBlend. You will receive a verification email shortly.
There was a problem. Please refresh the page and try again.