Why Chicago Fire's Good News For Casey Was Really Disappointing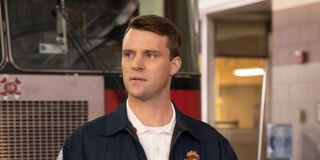 Spoilers ahead for Episode 12 of Chicago Fire Season 9, called "Natural Born Firefighter."
Chicago Fire has spent the last several episodes forcing Casey to face a possible future as something other than a captain in the CFD due to a head injury. The plot has been a blast to the past, when Casey suffered his first traumatic head injury, and seemed to be setting up at least a meaty storyline for Casey, and it didn't even feel inconceivable that it was setting up Jesse Spencer's departure. "Natural Born Firefighter" gave Casey some great news, but I found it disappointing more than anything else.
After Casey finally got around to getting his head checked out, he had to wait most of the episode to find out whether his MRI results would mean the end of his time as an active CFD firefighter or that he could get right back into his gear and start fighting fires again by the next shift. To his (and Brett's) relief, he discovered that the symptoms he has been experiencing were due to a concussion and shoulder injury, not that the knock on his noggin was the end of his career.
On the one hand, my immediate reaction was of course to be happy that Casey, who has gone through so much over the years of Chicago Fire, isn't going to be forced out of the job he loves by an injury that he sustained (twice!) while fighting to save lives. Plus, Jesse Spencer has been key to the series from the beginning, and it would have been a shame to lose him.
On the other hand, my reaction after the initial relief on Casey's behalf was disappointment. This suspenseful storyline with Chicago Fire revisiting Casey's injury and putting his future in question had been the one that I was most invested in all season, and I really enjoyed the sense of not knowing what was going to happen. It was entirely possible that this wouldn't be a case of Fire wrapping the plot and resetting, but instead changing everything, and that is such an important thing for a show in its ninth season, and already guaranteed to last into eleven seasons.
And this episode felt like a reset for Casey, and even Brett to a certain degree. This storyline with such game-changing and character-developing potential came to an abrupt end with Casey's health being cleared, and it also resulted in the end of Brett's relationship with Grainger. Brett was doing so well in moving forward with Grainger, and Grainger was a relatively rare One Chicago love interest who came with no strings attached.
In fairness, Grainger is the one who cut things off with Brett, so it's not like she flung herself into Casey's arms or anything, but just as I was invested in seeing how the head injury story would continue to affect Casey, I was interested in seeing Brett's relationship with Grainger, even if it was always going to be temporary.
I also felt that Chicago Fire was setting the stage for Casey to reunite with Dawson, thanks to everything from Brett declaring that he's still in love with Dawson to the wristwatch that seemed awfully symbolic to Casey's refusal to ever say that he no longer loves Dawson. Even if a Dawsey reunion can't and/or won't happen, this feels like an abrupt shift away from a storyline that was developing over multiple episodes.
It would have been fine if Chicago Fire's goal was always to find a solution to keep Casey in the CFD and even go back to Brettsey, but the quick resolutions to what felt like subplots that could last for a long time were disappointing in light of what might have been. Again, I'm glad that Casey doesn't have to give up the job he loves, and I'm glad that Casey had somebody with him when his whole future was at stake. Couldn't the story have just kept unfolding for a little while longer rather than wrap in one hour?
All of this said, there's no guarantee that any of these stories are definitively finished, and Season 9 isn't out of episodes yet, so the sky isn't falling. Chicago Fire returns with its next new episode on Wednesday, May 5 at 9 p.m. ET on NBC, between Chicago Med at 8 p.m. and Chicago P.D. at 10 p.m. Finale season is fast-approaching, so don't miss an episode as Season 9 winds down. Fire showrunner Derek Haas has already confirmed a Season 9 finale detail for Severide, after all!
Resident of One Chicago, Bachelor Nation, and Cleveland. Has opinions about crossovers, Star Wars, and superheroes. Will not time travel.
Your Daily Blend of Entertainment News
Thank you for signing up to CinemaBlend. You will receive a verification email shortly.
There was a problem. Please refresh the page and try again.