Why Prodigal Son's Latest Big Death Was Actually A 'Blessing,' According To The Actor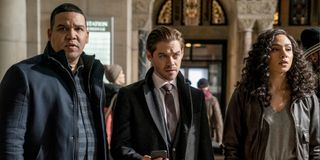 Spoilers ahead for Season 2, Episode 11, "You Can Run..." of Prodigal Son**.**
After the big escape from Claremont on Prodigal Son, it was only a matter of time before Malcolm Bright tracked down Friar Pete, who escaped from the psychiatric hospital with fellow inmates Martin Whitly and Hector. Believe it or not, Friar Pete's final scene is the reason his death was actually a blessing, at least according to Christian Borle -- who portrayed the manic murderer on the drama series.
In his final moments, Friar Pete had a showdown with Malcolm Bright at a bowling alley. As Bright made his way onto the lanes, Friar Pete was merely just enjoying himself, as an escapee does. When confronted by Bright, Friar Pete threw a bowling ball at him, which Bright was thankfully able to dodge before Pete pointed a gun at him. However, Pete was fatally shot by U.S. Marshal Emily Ruiz, who just recently boarded the case and counted on Bright to lead her right to his father. Christian Borle explained to TVLine that although Friar Pete didn't go out in a blaze of glory, he was still excited about the different aspects of the scene and the fact that it saved him from getting too over-the-top as an actor:
Friar Pete was first introduced in Season 2, Episode 2, "Speak of the Devil," as Martin's consultant at Claremont. It was ultimately revealed that he was a serial killer who pursued his victims due to religious delusion. Although only a recurring character, Pete quickly made a name for himself, not only due to his budding friendship with Martin but also through his devious nature and the plans he came up with while trying to escape from the psychiatric hospital. And in true Malcolm Bright fashion, he had to nearly get himself killed, in the moments before Pete lost his own life. All in all, while the scene was massively dramatic, it still holds plenty of weight due to the importance of Friar Pete - and the fact that Christian Borle didn't have to watch himself overact.
Things are really heating up on Prodigal Son. Last week's episode ended with a shocking twist when it was revealed that Dr. Capshaw had been manipulating Martin the whole time and that he could actually be in the trunk of a car. With Friar Pete out of the way and Hector no longer a problem, what could this all mean for Martin? We'll just have to wait and see.
The final episodes of Prodigal Son Season 2 air Tuesdays at 9 p.m. EST on Fox, but sadly not for too much longer. Fox has cancelled the series after two season, with Variety reporting that Prodigal Son's ratings weren't enough to warrant a renewal for Season 3, and the May 18 season finale will now be the series finale.
Passionate writer. Obsessed with anything and everything entertainment, specifically movies and television. Can get easily attached to fictional characters.
Your Daily Blend of Entertainment News
Thank you for signing up to CinemaBlend. You will receive a verification email shortly.
There was a problem. Please refresh the page and try again.