Why Law And Order: Organized Crime's Reveal About Kathy's Death Needs To Be Legit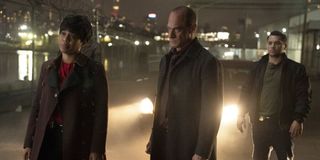 Warning: spoilers ahead for the fifth episode of Law & Order: Organized Crime on NBC, called "An Inferior Product."
Law & Order: Organized Crime returned from a brief break for its second two-part crossover with Law & Order: SVU, but "An Inferior Product" did far more than just finish the story that started with a Special Victims case. By the end of the hour, Kathy's killer had seemingly been revealed, with a shocking identity that is bound to throw Stabler for yet another loop. It looks like Angela ordered the death of Stabler's wife, and Organized Crime really needs to make this twist legit for several reasons.
So, in the spirit of hoping that Angela really did order the killing of Kathy Stabler, as the confidential informant Becker finally confessed at the end of the episode, let's take a look at reasons why it was a great reveal and shouldn't be the beginnings of a bait-and-switch.
Season 1 Is Almost Over
The most straightforward reason why I think Law & Order: Organized Crime needs to stick with Angela as the one who ordered Kathy's death is simply that there are only three episodes left of the first season. The show may have started with Stabler's mission to find out who killed his wife, but there are so many more layers now than when it premiered, and confirming the identity of her killer doesn't mean that the show would have nothing to do for the next three episodes.
There are still the questions of motive, not to mention the fact that Wheatley is still a very bad guy even if he didn't order the death of Kathy Stabler. The reveal coming with three episodes to go means that it can be fleshed out, not that it should be undone and revealed that Angela is a patsy. The identity of the person who ordered Kathy's death is a big piece of the puzzle, but not the only one, and three episodes isn't a whole lot of time left.
Stabler Was Moving Way Too Fast With Angela
After rather ambiguously being told by Bell that he needs to move on from Benson, Stabler dropped by Angela's place and – despite me yelling at the TV that his wife was just murdered – proceeded to kiss her, and she certainly did not mind. They stopped before things went too far, and Stabler's desperation to latch onto something makes it understandable that he might seek her as a port in the storm. But seriously, poor Kathy just died! The woman still gets the short end of the Law & Order stick, even in death.
If Angela is indeed the killer, then that means that Organized Crime was setting the kiss and connection with Angela up as a bad idea for Stabler, and something he'd come to regret. And presumably not setting Angela up as his love interest for a relationship that I'm supposed to root for. Angela is way more interesting as a murderer who completely fooled even veteran detective Stabler (and probably a lot of viewers) than his love interest.
And yes, Kathy deserves a longer period of Stabler mourning before he starts making out with other women. The poor woman didn't go through a decade about worrying about him and Benson just for this to happen shortly after her death, unless it's going to be presented as a mistake. Benson and the Stabler kids are might need to stage another intervention if Stabler doesn't stop going after Angela, but if she really killed Kathy, then that should put an end to things! He doesn't need a love interest already.
Bell's Job Is On The Line
This was a rough episode for Bell, when her nephew was attacked by cops when he did nothing wrong, and had every bone in his hand shattered when he was working to improve as a guitar player. The family is suing the NYPD, which puts Bell in a difficult position. The NYPD brass informed her in "An Inferior Product" that she needs to catch Wheatley and close the case or lose her job.
It would be a shame to lose Bell after just one season (assuming Organized Crime gets a second season), so I say that the sooner they can wrap up the Kathy's killer element of the case against Wheatley, the better for her chances of keeping her job. She has also been a strong ally in Stabler's corner while he has confided more in Wheatley's ex-wife and Benson, so losing Angela as a confidante could mean good things for his dynamic with Bell.
It's A Crazy Awesome Twist That Shouldn't Be Untwisted
Independent of the few episodes left of Season 1, Bell's job on the line, and my desire for Stabler to lose the love interest (#JusticeForKathy!), Angela as the person who ordered Kathy's murder is just a crazy awesome twist that I didn't see coming. There are so many questions that come out of this answer as to who ordered the death of Stabler's wife, and they're intriguing to ponder after spending most of five episodes expecting Wheatley to be guilty.
And sure, he's undeniably guilty of plenty of other things if Angela truly is responsible for pulling the metaphorical trigger on Kathy, but the big wrong that launched Organized Crime being perpetrated by the most unlikely character sets up some intriguing possibilities for the rest of the season, and perhaps even beyond. Plus, Tamara Taylor can totally pull off showing a darker side of Angela than we (and Stabler) have seen so far, and a reveal that it was really Wheatley all along would be underwhelming at this point.
Find out if Angela really is responsible for the death of Kathy Stabler with new episodes of Law & Order: Organized Crime on NBC Thursdays at 10 p.m. ET, immediately following new episodes of Law & Order: SVU. For some viewing options once the two shows have wrapped for the season, check out our 2021 summer TV premiere schedule.
Your Daily Blend of Entertainment News
Laura turned a lifelong love of television into a valid reason to write and think about TV on a daily basis. She's not a doctor, lawyer, or detective, but watches a lot of them in primetime. Resident of One Chicago, the galaxy far, far away, and Northeast Ohio. Will not time travel, but will sneak references to The X-Files into daily conversation.