The Good Doctor Just Made A Big Move With Its Newest Doctor For Season 5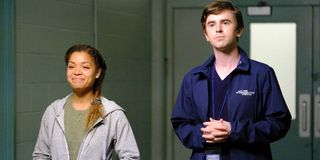 Ahead of the Season 4 finale of ABC medical drama The Good Doctor, news broke that a new doctor is officially joining the St. Bonaventure team. The move is a big one, as this character was just recently introduced. Dr. Mateo Rendón Osma isn't going anywhere, except San Jose, California.
According to Deadline, Osvaldo Benavides is joining the cast of The Good Doctor as a series regular for the upcoming fifth season. Benavides' Dr. Osma was introduced during the two-part Season 4 finale as an incredibly skilled trauma surgeon who has spent years working in Guatemala for a Doctors-Without-Borders type organization. He was first introduced in last week's first part of the finale to assist the St. Bonaventure team with a surgical mission. A series regular option for Benavides for Season 5 came with the two-episode arc.
Osvaldo Benavides joins Noah Galvin and Bria Samoné Henderson, who were also recently announced to be series regulars for Season 5 after they were recurring guests for Season 4. Galvin portrays Dr. Asher Wolke while Henderson is Dr. Jordan Allen, and both are surgical residents at St. Bonaventure Hospital. With Benavides being upped to a series regular, it will be interesting to see how Dr. Osma will be recruited to St. Bonaventure, considering his whole life is in Guatemala. Since he's been getting closer to Christina Chang's Audrey Lim, it's possible she will have something to do with it and fans will see more of their relationship in the upcoming season.
Season 4 of The Good Doctor has been like no other. While it wasn't the only show to not fully include the COVID-19 pandemic, it was one of few medical dramas to not include it as a major storyline. The season began with the height of the pandemic, before fast forwarding to afterwards. The characters also dealt with the aftermath of Dr. Melendez's death in the Season 3 finale, as well as some more individual and personal problems.
Claire reunited with her estranged father, Shaun and Lea felt all kinds of emotions during their short pregnancy before a heartbreaking miscarriage, and Morgan and Park's relationship has been going back and forth. This season has been an emotional roller coaster and while some characters deserved better, it will be nice to see a few more scrubbing in.
The news of Osvaldo Benavides' promotion comes after two series exits this season, following Nicholas Gonzalez's exit after appearing early in Season 4 despite his character's death, and Antonia Thomas' just-announced exit after the finale. Thomas has portrayed Dr. Claire Browne since the very beginning so to see how her journey comes to an end, as well as how Dr. Osma's will just begin, will be something to look forward to in the Season 4 finale. Part 2 of the Season 4 finale of The Good Doctor airs Monday, June 7 at 10 p.m. EST on ABC.
Your Daily Blend of Entertainment News
Passionate writer. Obsessed with anything and everything entertainment, specifically movies and television. Can get easily attached to fictional characters.
Your Daily Blend of Entertainment News
Thank you for signing up to CinemaBlend. You will receive a verification email shortly.
There was a problem. Please refresh the page and try again.