The Good Doctor: Why Fiona Gubelmann's Morgan Reznick Deserves More In Season 4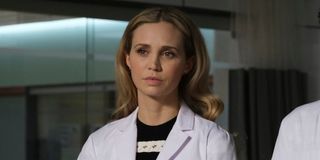 (Image credit: ABC)
Spoilers ahead for Episode 14 of The Good Doctor Season 4, called "Gender Reveal."
The Good Doctor returned after a brief break for the reveal that Shaun and Lea are going to have a daughter, although they ran into some new obstacles when it came to Lea's birth plan vs. what Shaun didn't think she needed. While they were considering their future as parents of a girl, Morgan and Park were bantering back and forth about their relationship status (or lack thereof), leading to what was basically more of the same for Morgan with some growth for Park, and I for one am ready for Morgan (and actress Fiona Gubelmann) to get more when it comes to story in Season 4.
Most of the major characters of The Good Doctor have undergone some lasting growth in the fourth season, for better or worse, but Morgan is still up to her old habits that were already frustrating me back in November, less than half a dozen episodes into Season 4. She crosses lines, like with pranking earlier in the season and in "Gender Reveal" posting a picture of Park that she took without his knowledge for personal reasons, and she goes out of her way to make sure that there are no strings attached about as bluntly as she can.
And there's nothing wrong with those kind of character beats, but we've seen variations of them time and again with Morgan, frequently after she has gone through major ordeals that should have resulted in some change. Again, for better or worse. As awful as it was for Morgan to have to give up on her dream of surgery, I was interested in the story potential of The Good Doctor changing her to an internist, especially in light of her heroic actions at the end of Season 3 leading into Season 4. But she's still the same old Morgan whenever she can get away with it.
Park has been stuck in the same rut, and in fact his storyline with her is part of what really made me realize that she deserves more than she has gotten, because his story felt like it came to a standstill when it was entwined with hers. His has bothered me less, because The Good Doctor has given him a cumulative journey, and he learns from his experiences and moves on, as the end of "Gender Reveal" reminded. Morgan has her smaller arcs, but defaulting back doesn't work for me in a show where everybody else is changing. Just looking at how Shaun and Claire have changed, contrasted with Morgan, makes it all the worse.
As things stand now, I can't love Morgan or love to hate her. She just feels like a coworker that I 100% would not want to have and somebody who sometimes has great episodes and plot twists to break up her relative lack of the kind of development that sticks. Yes, her hand issues that forced the move from surgery to internal medicine stuck, but that was something physical rather than emotional or personal.
Fiona Gubelmann has shown that she can show off more sides of her character, and she deserves the chance to do so more often, like the rest of the cast. And I'm not even against that happening with Park, and there were glimmers of Morgan getting too attached to Park for her own comfort in "Gender Reveal." I just want her to be able to change and grow in some way or other so that she can at least keep up with the rest. I can't be invested in Morgan/Park if it doesn't result in anything changing.
See what happens next for Morgan and the rest with the next new episode of The Good Doctor on ABC Monday, April 26 at 10 p.m. ET. The show has said goodbye to a number of characters already in Season 4, so it should be interesting if the cast remains the same for the time being or if more changes are in store.
Resident of One Chicago, Bachelor Nation, and Cleveland. Has opinions about crossovers, Star Wars, and superheroes. Will not time travel.
Your Daily Blend of Entertainment News
Thank you for signing up to CinemaBlend. You will receive a verification email shortly.
There was a problem. Please refresh the page and try again.