Loki: Tom Hiddleston And The Filmmakers Discuss That Absolutely Massive Villain Reveal In Episode 2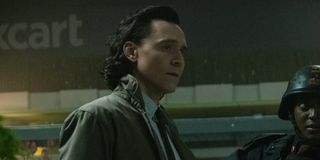 SPOILER WARNING: The following article contains massive spoilers for the second episode of Loki. If you have not yet watched it, proceed at your own risk!
By the end of the first episode of Loki, Marvel fans were led to believe that they had an inkling about the direction of the macro narrative in the series. The final moments revealed that the Time Variance Authority case the titular villain is brought in on is a hunt for an alternate version of the God of Mischief, and there was the suggestion that said hunt would be the main thrust of the story. Now that Episode 2 has arrived, however, we know better. Not only does Loki manage to locate the target of his search in the sophomore chapter of the Disney+ original, but it's also revealed that the antagonist is none other than Lady Loki, played by Sophia Di Martino.
Primarily featured in the third volume of Thor comics and the publisher's Dark Reign event series from the same era, Lady Loki is a very popular incarnation of the Asgardian prince (especially among cosplayers), and her introduction to the Marvel Cinematic Universe is both a big and exciting surprise. She only appears for a brief moment – after possessing a series of other characters –but the appearance immediately inspires a number of questions. For example, what was it like for Tom Hiddleston to have his performance reflected back at him in the making of the show, and how does the reveal fit into the big picture of what's to come? Fortunately, these were interesting bits of information that I learned interviewing the star and the filmmakers behind Loki earlier this month.
What It Was Like For Tom Hiddleston To Square Off Against Lady Loki – In All Her Forms
It's a pretty remarkable thing to think about, but Tom Hiddleston has been playing Loki for more than a decade now. He made his debut as the character in 2011's Thor, and he has since reprised the role five times, including his Disney+ series. At this point, he knows the character intimately, and it is a massive part of his career. So, naturally, it was quite a trip for the actor to have the experience of other performers playing his own well-practiced energy right back at him with the introduction of Lady Loki.
Speaking with Tom Hiddleston during the virtual press day for Loki, my focus was primarily on spoilers from the first two episodes, and after asking about the scene in the premiere where the God of Mischief witnesses his own death, I followed up with a question about Lady Loki. Obviously he couldn't speak in much detail, as there is much to still be revealed about the antagonist, but he made it clear that he very much enjoyed witnessing his character's most fascinating traits being performed by other actors. Said Hiddleston,
From Thor to Avengers: Infinity War, audiences witnessed Loki go through a spectacular evolution, and Tom Hiddleston deserves a tremendous amount of credit for his capacity to instill the character with all of the qualities he namedropped. In Loki, however, we're getting to see him explore even newer territory with the role, and it's evidently an experience that has provided him with some wonderful new perspective.
Continuing, Tom Hiddleston both expressed a certain fascination in the idea of Loki being a character infinitely larger than his own personal interpretation, and also teased what is to come from his new nemesis and Sophia Di Martino's performance:
It probably goes without saying that any psychologist would have a field day with Loki on the sofa, but Owen Wilson's Mobius is doing a pretty damn good job essentially doing that job on the Disney+ show.
Loki Head Writer Michael Waldron Teases Why He Wanted Lady Loki To Be A Part Of The Series
Of course, right now we know very little about Lady Loki's whole deal in Loki. We know that she has been very busy messing with the Time Variance Authority, setting traps and ambushes with the goal of acquiring enough reset charges to throw the entire multiverse into chaos, but her larger plan remains a mystery into which the eponymous protagonist is surely going to dig.
It's a plot that we're exceptionally excited to see unfold as the last four chapters play out, and while head writer Michael Waldron isn't saying too much about Lady Loki right now, he did intriguingly tease her purpose in the series thematically during my conversation with him last week.
Without giving too much away, Waldron explained that the concept of creating alternate versions of Loki was something he knew he wanted to do from the get-go in the making of the series. Furthermore, it was an idea that he wanted to explore specifically with the purpose of making the God of Mischief confront his own identity. Said the filmmaker,
Loki's second episode sets the stage for plenty of exciting things to come, and we're waiting with baited breath for each new chapter. On that note, the countdown is now on for our next opportunity to catch up with the brilliant Marvel villain. Episode 3 will debut on Disney+ at midnight PST/3am EST next Wednesday, June 23, and immediately following its airing I'll be back with a new featuring examining everything that goes down.
Assistant Managing Editor
NJ native who calls LA home and lives in a Dreamatorium. A decade-plus CinemaBlend veteran who is endlessly enthusiastic about the career he's dreamt of since seventh grade.
Your Daily Blend of Entertainment News
Thank you for signing up to CinemaBlend. You will receive a verification email shortly.
There was a problem. Please refresh the page and try again.