Game Of Thrones Star Lena Headey Reveals Filming One Memorable Scene Was A 'S--t Time'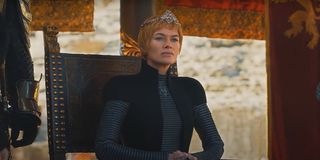 Game of Thrones had more than a few memorable torture scenes during its run. The disgraced Theon Greyjoy got the brunt of it, but there were many residents of Westeros that found themselves strapped to tables during the course of the show's eight seasons. If the scenes are hard to watch, they're even harder to film. Lena Headey, a.k.a Cersei Lannister, revealed one particular GOT scene that turned even her stomach.
While doing a press tour for her upcoming action, Lena Headey admitted that a certain scene from the sixth season finale "The Winds of Winter" was tough to film - but not for her. According to Insider, Septa Unella actress Hannah Waddingham was subjected to a long shoot in which Cersei Lannister waterboarded her with red wine. Lena Headey said of the experience:
The scene in question consisted of Cersei Lannister tying Septa Unella to a table and waterboarding her for an indeterminate length of time before leaving the poor woman alone with The Mountain, Ser Gregor Clegane. Septa Unella's torture scene only lasted for a couple minutes, but Hannah Waddingham was reportedly strapped down for the entire duration of the 10-hour film shoot. Actors often go above and beyond for their craft, but poor Hannah Waddingham deserves a medal. Lena Headey seems to agree.
Prune juice? At least drinking wine all day would have made the shoot a little more bearable. Lena Headey admitted that, while the shoot was taxing, it was only done for the authenticity of the scene. She took pity on her co-star and started pouring the prune juice away from Hannah Waddingham's face as the shoot went on. Lena Headey probably put in her fair share of arduous shoots as Cersei, so it makes sense that she would sympathize. Hannah Waddingham has also spoken about the scene before, saying that she spoke to a mental health professional afterwards. It just goes to show how dedicated some actors can be when it comes to their craft.
While Cersei Lannister and Septa Unella didn't make it to the end of Game of Thrones, their actresses are doing just fine. Lena Headey will be starring in the Netflix action film Gunpowder Milkshake alongside Karen Gillan, while Hannah Waddingham can currently be seen on the Apple TV+ comedy Ted Lasso with Jason Sudeikis.
Your Daily Blend of Entertainment News
Actor, singer, and occasional dancer. Likes: fashion, books, old buildings. Dislikes: cilantro, the NJ Turnpike, sneaker wedges.