Real Housewives Of Beverly Hills' Erika Jayne Has Suffered A Loss In Ongoing Legal Case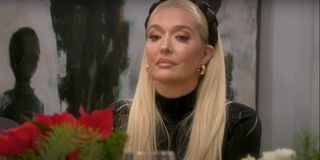 (Image credit: Bravo)
Allegations have continued to swirl around Erika Jayne, as the embezzlement and bankruptcy cases facing her husband, Tom Girardi, continue to unfold. She filed for divorce from him last November after 22 years of marriage, but many still speculate that she knew or had some involvement in Girardi's supposed criminal activities. It seems the courts have similar concerns. The most recent update about the ongoing legal case indicates that the Real Housewives of Beverly Hills star suffered a loss of faith where her innocence is concerned.
Previously, several motions were filed against Erika Jayne by the petitioning creditors in her husband's bankruptcy case. Not only did they allege she had some involvement in the embezzlement of Tom Girardi's clients and creditors, but they demanded that she turn over "key financial documents" for the investigation. According to documents obtained by People, the judge ruled in the creditors' favor on Monday and ordered the reality star's accountant, divorce lawyer and landlord to provide the documents in question. These documents can include bank statements, pay stubs, as well as any financial emails or text messages.
The judge's decision is certainly a blow to Erika Jayne amidst the legal proceedings. Following the initial motions by creditors, her legal team asserted that Jayne "has been and remains willing" to be cooperative. Now, it seems she is legally mandated to do so as well.
At the same time, Erika Jayne's legal team had also responded to the accusations in the motions by requesting the special counsel's position to be reconsidered. It seems the Real Housewives of Beverly Hills star and her team were questioning the current special counsel, Ronald Richards, and his ability to be objective due to a "false and inflammatory" public post by him. Jayne's team said their client is "not a media fiction" but in fact "a real person with rights." Richards is still providing updates on the case as special counsel via his Twitter account, so it would appear as though Erika Jayne's request has been either ignored or denied.
This isn't the only loss Erika Jayne has faced so far in this case. It was reported that she also appeared to have been dropped by her own lawyers for a few days, before they ultimately reversed the decision. Special counsel Ronald Richards had speculated to an online commentator that the reversal was "probably" because she found money to pay them.
In the motions filed against her, Erika Jayne is accused of receiving loan payments in the figures of more than $20 million from her husband's law firm. They also allege that the Real Housewives of Beverly Hills alum has been selling off her expensive clothes and jewelry in an effort to hide assets owed to Tom Girardi's clients and creditors.
On The Real Housewives of Beverly Hills, drama usually doesn't go further than petty squabbles among supposed friends. But the current season is going full Real Housewives of New Jersey's Teresa Giudice. Erika Jayne is telling her side of the story, as much as she legally can. And as she tells it, she only decided to divorce Tom Girardi after he apparently shut down and wouldn't speak to her much. As of yet, the reality show hasn't caught up with the accusations of Tom Girardi's law firm allegedly embezzling the likes of "widows and orphans" that were owed money for a plane crash settlement.
Erika Jayne's current castmates seem publicly supportive of their friend during the ongoing legal developments. We'll be sure to keep you posted on the situation as updates become available.
Your Daily Blend of Entertainment News
Movies and TV News Writer
Freelance writer. Favs: film history, reality TV, astronomy, French fries.