Bachelor Nation Has Epic Burns For Blake Moynes After His Awkward Bachelorette Return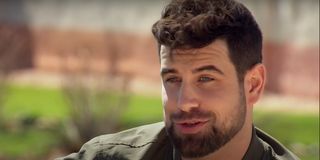 (Image credit: ABC)
The list of men after Katie Thurston's heart on The Bachelorette Season 17 is steadily shrinking. But that didn't stop Bachelorette alum Blake Moynes from throwing his hat in the ring – again. Moynes' sudden appearance technically makes for his third bid for a Bachelorette leading lady within a year, one of whom is co-hosting Thurston's season. The awkward nature of his return isn't lost on Bachelor Nation fans, and they've taken to social media to provide the best burns imaginable.
Thanks to teasers, Bachelor Nation has known about Blake Moynes' return on The Bachelorette for some time now. We just didn't know when that would be exactly. As a result, when Moynes returned in the last episode, fans were, well, not too surprised. See this fan's reaction to the alum's return on Twitter:
The saga of Blake Moynes on The Bachelorette is both relatively short and jam-packed. Last year, he attempted to win the heart of Clare Crawley. (It was even revealed that he had contacted her before filming took place.) But due to Crawley's early exit with Dale Moss, Tayshia Adams quickly filled the spot. Moynes was eliminated weeks later by Adams. Now, he's back again for Katie Thurston (who he also admitted to contacting before her current season) and Bachelor Nation hilariously hasn't forgotten his track record:
It is definitely one of the most awkward musical chairs scenarios that The Bachelorette has ever seen. I mean, Blake Moynes admitted to having feelings for Tayshia Adams only last year. Adams is now hosting the season alongside Kaitlyn Bristowe – and has to watch him potentially kiss Katie Thurston? It's a bit weird and the storyline is kind of obvious, which Bachelor Nation fans seem to agree with:
On the flip side, some of the epic Twitter burns about Blake Moynes on The Bachelorette again seemed to be painting him as the vaudeville villain come to ruin first chances and steal roses. Check out this fan's reaction to watching the Moynes reveal episode:
The Bachelor Nation fan's post is equating Blake Moynes in The Bachelorette to Octavia Spencer's character in the thriller film Ma. If you didn't see that particularly crazy storyline in theaters, let me just sum up the allusion by saying that, I think, they're calling Moyne a raving mad lunatic (who maybe just wants a little love and healing in his life). Unlike Moynes, though, Octavia Spencer never got her much-deserved sequel.
There's a whole lot of other comparisons being made against Blake Moynes, and they're all not dark and sinister. By returning to Bachelor Nation screens again, Moynes has opened up himself to a few jokes at his expense, particularly his bearded, lumberjack look. I've seen him called the Canadian John Travolta and the lions from both Madagascar and Zootopia, and I can't stop laughing. See below:
We're all laughing at Blake Moynes' expense right now, but maybe he'll finally get the connection he is so desperate to find on reality TV. If that is, indeed, what he's after. In the last elimination, we saw the dramatic exit of Thomas Jacobs for supposedly being a "liar" whose "Bachelor audition" ended when Katie Thurston sent him home. I don't know who needs to tell Thurston, but I think I spot someone else with the same goal in mind. See what happens next with new episodes of The Bachelorette on ABC Mondays at 8 p.m. ET.
Freelance writer. Favs: film history, reality TV, astronomy, French fries.
Your Daily Blend of Entertainment News
Thank you for signing up to CinemaBlend. You will receive a verification email shortly.
There was a problem. Please refresh the page and try again.