Good Witch Ending Explained: What Happened, Who Got Married, And Why Bailee Madison Didn't Appear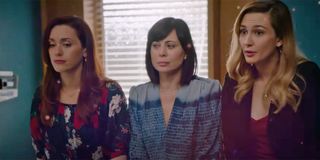 It's hard to believe that Good Witch is finally over on Hallmark. Catherine Bell actually originated the role more than a decade ago through a series of movies. In 2015, Good Witch became a TV series starring Bell and newcomers James Denton, Bailee Madison and Rhys Matthew Bond. Sarah Power and others joined as the show continued on. Following Madison's exit, Katherine Borrell joined as well. Now, it's all over, but how did Good Witch end? And did any other earlier characters appear?
How The Main Storyline In Good Witch's Finale Revolving Around Joy, Abigail And Cassie Ended
The last few episodes of The Good Witch dealt with a family mystery related to Joy, Abigail and Cassie's Merriwick roots. Witchcraft had always been winked at on Good Witch, but this season was a little more straightforward in regards to the topic. In fact the Merriwick ladies had to figure how the mysterious contents of three purple bags related to a tree of life symbol and their family and work a little magic to maintain their powers.
In the penultimate episode of Season 7, the three women actually figured out a key component of the mystery: that their magic was fading and they needed to find out how to create a second amulet. Joy dreamt of what needed to be done and she, along with Abigail, Cassie, and a little help from George, figure out how to use the orb of intent to create purple fire. A gold amulet with a tree design was created after, but it wasn't enough to save the day.
Later, Cassie put the amulet around her neck and the three Merriwick women headed outside. For a moment, Cassie thought she saw Grace in a moment that seemed like we might get a Bailee Madison cameo (we didn't). Instead, it was a trick. However, Cassie remembered to "take 10 seconds before you take a leap" and narrowly avoided getting hit by a tree. Conveniently, that tree had "pieces of Patient's amulet" under it, which the ladies used to combine with their own created amulet. It began glowing and seemed to do the trick.
At the end, while Joy, Abigail and Cassie stood in the calm, a vision of an elopement was seen.
Who Got Married? How The Good Witch Finale Tied Up The Story For Stephanie, Donovan And Other Characters
So who got married? Well, that would be Stephanie and Adam. While Adam has seemed like the right fit for Stephanie for a while, it took her a bit to figure that out herself. She was distracted by her French teacher even during Season 7, but in the finale she reconnected with Adam. The two wanted to have a simple wedding ceremony, but Adam was briefly seasick, initially not wanting to tell Stephanie he hated boats or ruin her day. Their vows "I just want to be married to you" were very quick, but they made it work. The two decided to go to Paris together later in the episode.
Elsewhere, Joy got a proposal from an ex who wanted her back. While that unsettled her, she ultimately made the right decision and worked to do the right thing and stay with Zoey, who had even learned to salsa for Joy! Joy and Zoey's relationship ended with a kiss, which is the, well, hallmark of a Hallmark ending. Joy and Zoey were the first big LGBTQ characters in Good Witch, so this storyline was notable, indeed.
While there was a lot of happiness in this ending, the Good Witch finale wasn't all shiny, happy moments. After fighting for their relationship, Donavan made Abigail cry when he noted he didn't feel they were going to put their marriage first over other things going in their lives. We left them holding hands, sad. Before the episode ended we learned Abigail would be going to Tuscany without him.
As for some other characters, Vincent popped in to buy a home and be closer to family, Martha and Tom reconnected as he prepared for major surgery and George and Joy decided to keep tabs on Grey House while Cassie and Sam went on their own big trip, with Sam noting, "there's nothing I want to do more than wander the world with you." That line was actually how the finale officially ended, a lovely sentiment and a fitting note for Good Witch's final hurrah, even if that was not what was always intended for this episode before Hallmark ultimately cancelled the series. In fact, however, two endings were allegedly filmed, in case Hallmark made the decision to cancel, which it ultimately did.
Why Didn't Bailee Madison Return To Good Witch For The Finale?
Those keeping tabs on Good Witch Season 7 may have already seen Bailee Madison appear-ish on Good Witch earlier during Covid. Protocols on set actually kept the actress from being able to film in person, but she and Catherine Bell hatched up a plan to get her character to nab a coveted internship, thus missing a flight home. Ultimately, fans had to be mollified by Madison's character Grace Russell calling home, Zoom-style, instead. Bailee Madison herself explained this in a tweet when the episode with her cameo had previously aired:
That was really the last we saw of Grace as Good Witch wrapped. It's also likely why we didn't see some other previous characters pop in. Particularly notable was the fact Dr. Sam Radford's son Nick was also missing in action for the finale. Doubtless, given the way the series ended (aka in a way that would not remotely have needed to include either college-aged kid) and the Covid-19 protocols in place, it makes sense the show didn't bring the young adults back. Bailee Madison had initially left the series ahead of Season 6.
Having said that, the final season did bring back Gianpaolo Venuta, who plays Cassie's foster brother Vincent, for a couple of episodes, including the finale. He came back to follow Cassie's advice, "take a leap" and hopefully become a foster parent himself. So, that story wrapped up on a really nice note. His advice also helped the Merriwick women to solve the mystery.
Good Witch may be over, but Hallmark is still firmly in the original series game. Next up, Chesapeake Shores will be returning to television with the Season 5 premiere on August 15. In addition, When Calls The Heart recently went back into production for Season 9. We'll be sure to keep you updated as more stuff comes down the pipeline, but for now it's still a little bit bittersweet to say goodbye to a long-running show, particularly with the one Good Witch has had. Still, the show was once a slew of movies, perhaps one day we'll get a special one-off movie once more? Stranger things have happened.
Your Daily Blend of Entertainment News
Reality TV fan with a pinch of Disney fairy dust thrown in. Theme park junkie. If you've created a rom-com I've probably watched it.