Kevin Costner's Epic Flop Waterworld Is Apparently Getting A Sequel, But In An Unexpected Way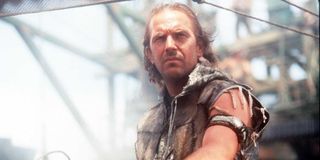 When movies and shows get sequels or spinoffs, it's usually because the original one did so well that the studio wants to expand on that. That's not the case with the developing TV sequel based on Kevin Costner's infamous flop Waterworld, and the show would be headed to streaming.
According to Collider, the 1995 post-apocalyptic action film that starred Kevin Costner and mostly sank at the box office is being developed into a streaming series by the film's producer John Davis, with Dan Trachtenberg set to direct. Davis had said that the series will be a "streaming version of that movie" and "the continuation of that movie." And while he didn't specify who would be starring in the project, Davis mentioned that it will take place "20 years later" with characters from the original movie.
Set in the distant future where the polar ice cap has completely melted, Waterworld followed Kevin Costner's The Mariner, who was a drifter and sailed the Earth in his trimaran. At the time it was the most expensive film ever made, and while it debuted at #1 at the box office and was nominated for an Academy Award, it was met with mixed reviews. The film today has been classified as a "cult classic," and even Costner doesn't think the film was such a flop.
It's interesting to point out that this isn't the first time a Waterworld series has been discussed. Nine years ago Syfy was pushing to get into the film industry following its merge with Vivendi Universal Entertainment in 2004, and while Waterworld wasn't an obvious candidate, network president Dave Howe said that a series inspired by the movie was something that had been "talked about endlessly" and it could be a possibility.
Waterworld isn't the first film to get the TV treatment and it likely won't be the last. A live-action Pokémon series is developing for Netflix that is similar to Detective Pikachu, although whether or not that's the planned sequel is still unknown. Meanwhile, Matthew McConaughey is set to reprise his role of defense lawyer Jake Brigance for the adaptation of John Grisham's novel A Time For Mercy, the sequel to A Time to Kill, for HBO Max. There are plenty of reboots, revivals, spinoffs and sequels these days that news of continuations often doesn't come as a surprise. Except if the original project has been deemed "a flop" by some, like Waterworld.
There is currently no other news on the potential Waterworld series and whether or not Kevin Costner could make a return, but be sure to stay tuned to CinemaBlend for any more updates! You can also find the original Waterworld streaming on Peacock now, and judge for yourself whether or not you would consider it a storytelling flop!
Passionate writer. Obsessed with anything and everything entertainment, specifically movies and television. Can get easily attached to fictional characters.
Your Daily Blend of Entertainment News
Thank you for signing up to CinemaBlend. You will receive a verification email shortly.
There was a problem. Please refresh the page and try again.