Yes, Below Deck: Mediterranean's Crew Is Still Bickering About Who Was Actually At Fault On The Last Charter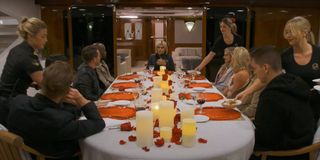 (Image credit: Bravo)
The Below Deck: Mediterranean crew is sinking (metaphorically, not literally) their latest charter in Season 6. The guests are complaining that the 5-star service just isn't quite 5-star. Onboard, the crew had a pretty good idea about who was really at fault and, apparently, the finger-pointing is still going on to this day.
In the Aug. 16 episode of Below Deck: Mediterranean, the crew had some heavy drinkers as primary guests. Chief stewardess Katie Flood seized their drunken stupor to swap second stew Lexi Wilson with third stew Courtney Veale, in order to give her some more front house experience. Wilson complained in her confessionals about the decision to switch things up. But Flood defended herself on the Below Deck: Mediterranean After Show, saying,
Below Deck: Mediterranean's Lexi Wilson was called out for small mistakes on the charter, such as not making a bed or setting the table properly, as well as not getting guests drinks for them. Katie Flood reflected on the after show that Wilson's attitude "got the better of her" and she ultimately started "slacking." Speculation has it that Wilson will, in fact, soon be fired on the show.
Yet Lexi Wilson doesn't think she was at fault either for that last Below Deck: Mediterranean charter. She said on the after show that "whatever Katie wants, Katie gets," implying that if Katie Flood wanted to change things up then it was on her. Wilson also said,
This isn't the first time that Lexi Wilson has gotten into a back and forth with her Below Deck: Mediterranean co-stars on accountability. Previously, she got into a drunken hot tub fiasco with everyone onboard. It didn't help matters that her apology the next day was rather general. But bosun Malia White has seemingly chosen to see Wilson's actions these days with more empathy.
Nevertheless, along with Katie Flood, Courtney Veale is also pointing the finger at Lexi Wilson concerning the last charter's failure. She thinks Wilson was purposely doing everything "shit" so she wouldn't be put on the early shift again. Moreover, she said it was "frustrating" that she, technically as the third stew, was having to check the second stew's work.
The most consistent feud this season on Below Deck: Mediterranean, though, has been between Lexi Wilson and chef Mathew Shea. And it's not entirely surprising what Shea's opinion is on who dropped the ball in the last charter. He said on the after show,
Lexi Wilson countered that Mathew Shea was "extremely difficult for no reason," during their time together on Below Deck: Mediterranean. She didn't have much else in defense of her lack of service, though she did state that "juicing takes a lot of time."
Juicing does take a lot of time. But it takes no time at all for a Captain to fire someone whose already on their second chance.
I am a vegan feminist. I'm fascinated by all things space/stars. I love film history, reality television, and my cat Bubbe.
Your Daily Blend of Entertainment News
Thank you for signing up to CinemaBlend. You will receive a verification email shortly.
There was a problem. Please refresh the page and try again.