How Lloyd Spencer's Coming Out Moment On Below Deck Explains A Lot More About That Lexi Wilson Hot Tub Drama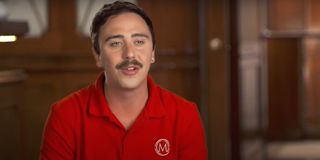 (Image credit: Bravo)
One of the biggest blowups in the history of Bravo's Below Deck: Mediterranean happened in the currently airing sixth season. Second stewardess Lexi Wilson got drunk with the rest of the crew on a night off, which ultimately culminated in some hot tub drama: specifically, Wilson cursing out nearly everyone onboard and even pushing someone. Lloyd Spencer was one of her co-stars on the receiving end of the tirade, but it was his recent coming out moment in the latest episode that helped give more context to the incident.
Amidst the hot tub drama on Below Deck: Mediterranean, Lloyd Spencer had at one point told Lexi Wilson to "shut the fuck up." Wilson retaliated by calling him a "pussy" and, later on, by pushing her boobs in his face. She obviously overstepped the mark, but at the time, it wasn't made entirely clear why the events were very triggering to Spencer, who quickly left the hot tub afterwards. The storyline simply followed the dominoes of Wilson's blowups with others.
However, it was made abundantly clear when Lloyd Spencer came out as sexually fluid in the Aug. 9 episode of Below Deck: Mediterranean. The crew was braving yet another night off – without the hot tub this time and with Lexi Wilson more in check. Spencer broke down to chief stew Katie Flood that he was "90% straight" but that he had a lot of traumatic experiences concerning his sexuality in the yachting industry, prior to Wilson's meltdowns. He shared that his last boat's captain would even casually refer to him as the f-word.
It seems obvious now that Lexi Wilson's derogatory words had brought up horrible memories for Lloyd Spencer. She didn't apologize to him then on Below Deck: Mediterranean and, supposedly, she hasn't done so since, according to bosun Malia White. Captain Sandy didn't fire Wilson at the time of the incident. In fact, she clearly advocated for Katie Flood to "invest" in Wilson, despite her behavior. It will be interesting to find out her thoughts on the situation now, especially as she is the only openly lesbian captain in the franchise.
Bravo fans were particularly upset by Lexi Wilson's behavior in the hot tub on Below Deck: Mediterranean. Though she was drunk and still grieving the death of her father, many were calling for her to be fired from the show. One fan had even noted the seemingly brushed-over incident with Lloyd Spencer and suggested it was a sexual assault on his person.
In the teaser for next week's Below Deck: Mediterranean episode, things aren't looking so good for Lexi Wilson still. Katie Flood apparently calls her out for not doing her job properly and there seems to be a distinct possibility that Captain Sandy does eventually end up firing her. But, is it a little too late?
I am a vegan feminist. I'm fascinated by all things space/stars. I love film history, reality television, and my cat Bubbe.