Ahead Of Lexi Wilson's Potential Dismissal, Below Deck Alums Weigh In On Her Huge Blowup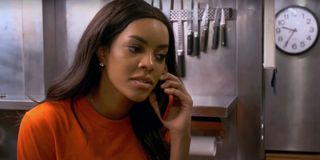 In the latest season of Below Deck: Mediterranean, things got a bit out of hand during a drunken crew night off. Stewardess Lexi Wilson received a hefty backlash for screaming profanities and getting physical with some of the other castmates involved. She wasn't fired the next day, but speculation has it that she will be shortly. Ahead of her (potential) dismissal on the next episode, some Below Deck alums have weighed in on the massive blowup that started it all.
The teaser for the next Below Deck: Mediterranean episode hints that Lexi Wilson's job is in jeopardy. (Fans were, in fact, calling for as much to happen after her initial hot tub meltdown.) But it's uncertain if the hints are just attempts to bolster viewership or an actual dismissal. Below Deck: Mediterranean's Season 3 and 4 alum and fan-favorite Colin Macy-O'Toole reflected to US Weekly that the writing for Wilson's job is basically written on the wall. He said,
However, Below Deck: Mediterranean's Colin Macy-O'Toole doesn't think Captain Sandy (who he worked with on the Talisman Maiton and Sirocco yachts) made the wrong decision to initially keep Lexi Wilson onboard after her arguments with the crew. He said everyone should get "a second chance to redeem themselves." Wilson's co-worker, chef Mathew Shea, was actually replaced himself when he quit on the same night of the hot tub blowup (although for different reasons). Yet Captain Sandy ultimately felt he did redeem himself in the last charter, effectively giving what is his third chance.
Another former Below Deck: Mediterranean star, Bobby Giancola, is having trouble seeing the logistics of keeping Lexi Wilson around. Giancola empathized with her grief spilling over but also told US Weekly,
The environment is definitely a lot on this year's Below Deck: Mediterranean superyacht. According to bosun Malia White, the situation wasn't improved by Lexi Wilson carrying on as if nothing had happened afterward. It should be taken into consideration as well that their co-star Lloyd Spencer's coming out moment on the show spotlighted the moment in another way in retrospect.
Regardless, Lexi Wilson's time might just be up on Monday night. Supposedly, chief stew Katie Flood believes Wilson has given up caring about the details of her job and actually goes to Captain Sandy about it. Tune in to Below Deck: Mediterranean on Bravo Monday night at 9 p.m. to find out how it pans out for the fallen second stew.
I am a vegan feminist. I'm fascinated by all things space/stars. I love film history, reality television, and my cat Bubbe.