Sounds Like Below Deck's Malia White Has Changed Her Tune On Lexi Wilson's Drama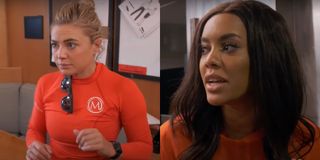 (Image credit: Bravo)
The central foe of Below Deck: Mediterranean's sixth season is none other than Satan. Or at least, that's what second stew Lexi Wilson affectionately nicknamed herself amidst her ongoing drama with every last crewmate onboard. She had a huge verbal and physical blow-up in a previous episode, to the shock of both cast and fans alike. However, lately, bosun Malia White is changing her tune from being rather defensive of the ordeal to more understanding of her co-star.
Below Deck: Mediterranean's Lexi Wilson got a lot of flak for her behavior that varied from screaming hurtful obscenities to pushing Mzi Dempers. But some questioned why Malia White opted to continue baiting the clearly intoxicated Wilson. At the time, White had sarcastically commented that it was actually "nice" on her part not to let a drunk girl drown in the hot tub. Now, White has a bit more to say about the explosive situation. She told ET Online,
"Misrepresented" is the interesting word here on Malia White's part. I'm not quite sure how Lexi Wilson's lack of regret for her blowup was misrepresented. (She said herself that she didn't feel she did anything wrong.) Perhaps she was slightly more remorseful than Bravo is showing fans, but then again, White says the crew to this day have never gotten a real apology. So how misrepresented was she?
In the latest Below Deck: Mediterranean episode, Lexi Wilson decidedly does not quit her job – as was dramatically teased by Bravo from the start of the season. (Conversely, chef Mathew Shea came back after quitting himself that night but Captain Sandy ultimately replaced him.) So maybe there is something to Malia White's insinuation that Wilson got the royal reality TV villain treatment. As for White, she is empathizing more with Wilson's position, adding,
Most definitely, Malia White had a rough storyline, too, when she first joined the Below Deck franchise in 2017. She was kissing both the chef and the bosun on board, which of course led to a lot of drama. (Her former co-star-turned-JLo's personal assistant Lauren Cohen knows this well.)
Lexi Wilson can just add herself to the long list of Below Deck: Mediterranean alums with a reputation to either uphold or transmute. (The latter of which Malia White has managed to accomplish after three seasons.) Let's hope that Wilson doesn't write "Satan" as her actual name on that list.
I am a vegan feminist. I'm fascinated by all things space/stars. I love film history, reality television, and my cat Bubbe.
Your Daily Blend of Entertainment News
Thank you for signing up to CinemaBlend. You will receive a verification email shortly.
There was a problem. Please refresh the page and try again.