30 Rock Video Clip: Stone Mountain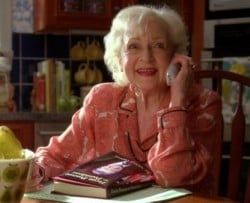 Betty White on 30 Rock! Jeff Dunham on 30 Rock. Sorry, I just can't bring myself to get nearly as excited about that second one. I know he's incredibly popular and breaking records on Comedy Central, but come on?! He's no Betty White!
Below is NBC's official summary of the October 29, 2009 Halloween-themed episode.
Either Jeff Dunham is going to be one of the celebrities to die, perhaps with Betty White, or he'll be a "talent" they find in Kenneth's hometown. Oh, I hope it's the latter and he gets totally slammed and rejected.
JACK: "I can see your neck moving."
LIZ: "You just totally moved your mouth. Are you sure you're a ventriloquist?"
30 Rock airs Thursday nights at 9:30 p.m. ET on NBC.
Image 1 of 10
Image 2 of 10
Image 3 of 10
Image 4 of 10
Image 5 of 10
Image 6 of 10
Image 7 of 10
Image 8 of 10
Image 9 of 10
Image 10 of 10