The 5 Biggest Snubs From The 2016 Golden Globes TV Nominations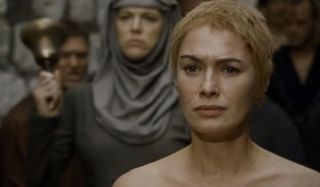 Every year, the Golden Globes puts together a list of some of the biggest and best names in Hollywood who have completed TV or movie projects in the past year. Usually some nods are surprising in a good way, and some give us the opposite feeling in the pit of our stomachs. In a year that saw Lady Gaga actually earn a Golden Globes nod, there were a ton of shows, actors and actresses who were totally snubbed. You can check out our picks, below. And if you haven't seen the full list of TV nominations, head here. (We also have movie nominations available).
Wacky Comedy Nods
Alright, I get there is star power in hour-longs like Jane the Virgin and—especially--Scream Queens, and I get that Veep and Silicon Valley are favorites in the Best Series (comedy) category, but a lot of awesome half-hour comedies are getting little love. Among these are cable's Broad City, Inside Amy Schumer, Blunt Talk (although that Patrick Stewart nod is nice), You're The Worst, Netflix streaming's Unbreakable Kimmy Schmidt, and network TV's The Grinder. And while we're talking about constant snubs in comedy, can someone please tell me how The Goldbergs' Wendi McLendon-Covey has never earned a nod for her portrayal of matriarch Beverly Goldberg on the ABC comedy? She' so underrated.
No Love For Black Sails
After getting off to a rocky start, Black Sails had a phenomenal second season. Toby Stephens, in particular, deserves a nod for his part in Season 2, as his backstory was finally fleshed out in flashbacks. The writers capably created a plot that intertwined past and present, but kept all of the action and political finagling inherent to the drama series. Louise Barnes also deserves a mention, especially for her work in "XVII." Pirate dramas have a rough go of it and Black Sails lacks the flashiness and trendiness of some of the shows that did earn nods, but it's a compelling show, nonetheless, and its budget allows for one of the best-looking sets on TV. Maybe Blackbeard will help next season, but I'm not holding my breath.
Animation Shut Out Once Again
Alright, last week's episode of The Simpsons was nothing special, but Rick and Morty, Bob's Burgers and Archer all had a slew of fan-fucking-tastic episodes this year. I get that Scream Queens was amusing—although clearly not all that popular— and that J the V takes the telenovela format and cheekily winks at it, but let's give animation a little love in the comedy nominations, even if it is already a crowded category.
The Lannisters Are Losing Their Edge
Peter Dinklage typically gets a nod at these sorts of ceremonies, and it wasn't like Game of Thrones was edged out completely, as it earned a best drama nod. However, if this was a year for anyone, it was a year for Lena Headey. Headey had some of her toughest material yet as Cersei Lannister, sparring opposite Margaery on Game of Thrones in Season 5 and taking on the High Sparrow to boot. This led to an onscreen penance and a now-famous nude scene toward the end of Season 5 that cost a ton to shoot. Perhaps Headey would have been on here if she hadn't hired a body double for the stint.
Walton Goggins' Final Justified Bow
While Raylan Givens was always getting out of tight situations in Elmore Leonard's stories, Justified took Leonard's main character and changed the story to fit a narrative of brotherhood and betrayal in the back woods of Kentucky. As much as we all enjoyed Timothy Olyphant, Nick Searcy and guest stints from Sam Elliott, Mary Steenburgen and Garret Dillahunt in Season 6, I think most of us can agree that Justified's swan song was not its finest season. What it did feature was perfection from Walton Goggins, who over the course of six seasons took a bit character named Boyd Crowder and turned him into one of the most fascinating antagonists on TV. The villain rarely earns a nod, but this time around the committee got the supporting actor field really wrong. (As much as we love The Good Wife's Eli, there's totally room to breathe some new life into that field).
Amazing Race & Top Chef superfan with a pinch of Disney fairy dust thrown in. If you've created a rom-com I've probably watched it.
Your Daily Blend of Entertainment News
Thank you for signing up to CinemaBlend. You will receive a verification email shortly.
There was a problem. Please refresh the page and try again.