5 Stan Lee TV Cameos That Came Before Agents Of S.H.I.E.L.D.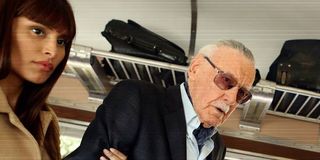 Even though Stan Lee's Marvel-ous cameo streak will come to an end when James Gunn's Guardians of the Galaxy hits theaters late this summer, there are still few appearances to look forward to in the interim. The 'Man,' as he's occasionally called, has Captain America: The Winter Soldier and The Amazing Spider-Man 2 on the docket for the Spring as well as a trip to the small-screen tonight for the thirteenth episode of ABC's Agents of S.H.I.E.L.D.. When people talk about his cameos, movies obviously dominate the conversation but the legendary comic-book creator has also done the rounds on television. Before "T.R.A.C.K.S." airs tonight, here's a look at five previous TV guest spots from Stan Lee...
Stan Lee's cameo on AOS might feel a little more like an event had he not appeared on The Simpsons all of three weeks ago. Oops. Lee showed up on "Married to the Blob," the tenth episode of the twenty-fifth season of Fox's never ending animated series, to help Comic Book Guy out with a rare romantic pursuit. This marked the second time that he stopped by The Simpsons, the first time was over a decade ago for the eighth episode of the thirteenth season, "I Am Furious (Yellow)." I wish I was able to track down that clip because Lee breaking a toy Batmobile by forcing The Thing into the driver's seat is hilarious. As is him trying to transform into The Hulk, "I did it once."
Okay, okay. So this one was a bit of a cheat since The Guild is technically a webseries but I thought the cameo warranted inclusion because Felicia Day is awesome. Stan Lee cameos in "Costume Contest," the eleventh episode of the fifth season that has our group, 'The Knights of Good,' infiltrating a comic-book convention in cosplay. Why do they have to crash the con's costume contest? Well, you can watch the entire installment of The Guild above to find out. Or just skip to the end (6:16) to catch Lee's appearance, "I'll never sign your comics, monster!"
Obviously, Stan Lee has had a cameo on The Big Bang Theory. The only thing that's surprising is that it took almost three full seasons for him to show up on the CBS's 'nerdy' sitcom. And when he did finally appear, the writers went all out. The entire A-story of "The Excelsior Acquisition," the sixteenth episode of Season 3, revolves around Sheldon not being able to make a Stan Lee signing because of a date in court over a speeding ticket. As you can imagine, things don't go well when the anti-social genius goes before the judge knowing that he's missing a potential meeting with his idol. And it's all Penny's fault. Can she fix it? "And you thought you'd just come over to my house uninvited?"
I'm not going to lie. I don't really get this one. Stan Lee makes a cameo on Chuck in "Chuck Versus the Santa Suit," the seventh episode of the fifth (and final) season, just to, well, be kind of creepy. Reinforced by the next entry, the comic-book legend sure doesn't seem to mind playing with his otherwise squeaky-clean image and in this case pops up for a quick mistletoe gag for the action-comedy's last Christmas installment. All that trouble and he doesn't even get himself a kiss. Chuck should have planted one on him after Beckman's rebuke. "Stan Lee is a spy? That is so weird."
Oh, Entourage. Way to be classy with the old 'Man.' This cameo is so bad/good that I had to reference it in the previous entry almost to brace everyone for Stan Lee and Sasha Grey sharing a scene. Of course, that in itself isn't all that bad/good but having him be the butt of a porn joke and then showing the characters laugh in his face makes it pretty, uh, special. And to make matters worse, that's the writer of Braveheart also in the meeting between the Marvel legend and DC's Aquaman. Who knows, maybe they'll 'make it up' to Stan by letting him show up in the movie? "And Sasha. You look familiar."
Agents of S.H.I.E.L.D. returns with Episode 13, "T.R.A.C.K.S.," on Tuesday, February 4 at 9:00 p.m. ET on ABC. Created by Joss Whedon, Jed Whedon and Maurissa Tancharoen, the series stars Clark Gregg, Ming-Na Wen, Brett Dalton, Chloe Bennet, Iain De Caestecker and Elizabeth Henstridge.
BONUS #3: The Trial of the Incredible Hulk
Your Daily Blend of Entertainment News
Thank you for signing up to CinemaBlend. You will receive a verification email shortly.
There was a problem. Please refresh the page and try again.