8 First Season Shows You Need To Be Watching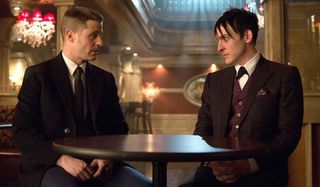 Every year, networks and streaming services throw out a bunch of brand new dramas and comedies. Some of those show end up getting cancelled early, but some of them end up earning full season orders and, with a little luck, a second season on the network or cable station that birthed them. Here at Cinema Blend, we know it can be tough to wade through all of the new stuff to determine what is and what is not worth your time. So, we did some sleuthing, combing through the Season 1 shows that have hit the schedule during the 2014-2015 season and put together a list of the 8 we feel you need to check out most. So, give 'em a watch—you may be pleasantly surprised.
Agent Carter
Running at only 8 episodes, Agent Carter is one of the shorter dramas on the list, but if you're a fan of any of Marvel's movies, Agent Carter is a must-watch. The smart and savvy series gives lead Hayley Atwell a chance to move forward without Captain America in her life, although the ABC drama has worked to tie with Marvel's Cinematic Universe in other ways. If you've missed the first few episodes, you can currently catch it On Demand or on Hulu. An even bigger bonus? It's not a huge overall time commitment.
BoJack Horseman
Netflix's rare animated series for adults has been a big hit for the subscription streaming service; so big, BoJack Horseman even got a Christmas special this year. But that's not why you should be watching. You should be watching because it is the rare animated series that tells a single story, and one that gets into the psychological underpinnings of its main character. It's also hilarious, has an amazing voice cast and features amazing puns. Need we say anything else?
Empire
Fox's midseason drama, Empire, is over the top. In fact, the show, from the music, to the costumes and the speeches opined by leads Terrence Howard and Taraji P. Henson, is pretty flashy. Due to its subject, its leads and its general flair, Empire has been addictive since it first hit Fox a few weeks ago. Even better, its ratings have grown since the series began, leading Fox to already sign on for Season 2 of the hit series. Get your game face on, and get down to watching.
Togetherness
HBO's new comedy Togetherness only recently premiered, but it has featured enough hijinks, jokes and nudity that it has kept us engaged from the very start. Brett, Michelle, Tina and Alex aren't perfect people, but they're often relatable while still bringing plenty of laughs. Chalk it up to the Duplass brothers' writing style (and Steve Zissis'!) or the always incredible Amanda Peet. We don't care. We are happy to inform you that Togetherness will absolutely be back for a second season, and if you already subscribe to HBO, you can power through the first three episodes, now. Or, just wait until that HBO standalone service becomes available this spring.
Gotham
Gotham has looked sharp since it first hit Fox this fall, but on top of its looks, the DC-based supervillain series also has major swag. Filled with big names from the world of Batman, Gotham features villains including Carmine Falcone, Salvatore Maroni, The Penguin and many, many more. If there's one complaint we have, it's that there is often too much going on in any given episode to let just one villain shine. Luckily, Gotham has a lot to fall back on, including a rich comic history, an all-star cast, and great graphics. Hopefully, when the show returns for Season 2, it will be even bigger and bolder.
Jane The Virgin
People have been talking up Jane the Virgin since it hit the schedule this fall. Despite this, the CW drama has maintained fairly low ratings, and I'm convinced it all comes down to a matter of taste. While Gina Rodriguez is a gem playing the titular character and the show itself is cheeky and amusing, Jane the Virgin is told in multiple languages and its plotlines can be extremely soapy and goofy. That's not a format that will work for everyone, but what's not up for debate is the quality of the series. If there's one adjective that can describe Jane The Virgin, it's that it is fresh, and if you are tired of being overwhelmed by procedurals on network television, this one is worth checking out.
Transparent
Amazon is just now catching up with Netflix in terms of forays into original programming. Luckily, the streaming service has found a critical winner in Transparent, a new comedy series starring Jeffrey Tambor as the patriarch of a family who finally reveals he is transgender. The series has already won two Golden Globes for its sheer ingenuity and awesomeness and if you haven't checked it out already, you can watch the first episode without an Amazon Prime (opens in new tab) membership.
The Flash
Ah, you thought we forgot this one, didn't you? The Flash has been kicking butt since its premiere became the highest-ranked series to hit the CW since The Vampire Diaries first began airing. Considering ratings have been dropping steadily in recent years, that's a feat. The CW's foray into the life of DC comics character Barry Allen may not be for everyone. It's occasionally thick with cheese and comic lingo, but in terms of bringing a comic hero to life on a small budget, its graphics are great and its villains are soundly written. Plus, the occasional crossover with Arrow definitely helps to amp things up a notch or two more. Catch it on Tuesday nights at 8 p.m. ET. That is, if you're fast enough.
Photo Credit@Fox, Netflix, Amazon, The CW, ABC and HBO
Reality TV fan with a pinch of Disney fairy dust thrown in. Theme park junkie. If you've created a rom-com I've probably watched it.