How Marvel's Ant-Man Movie Will Tie Into Agent Carter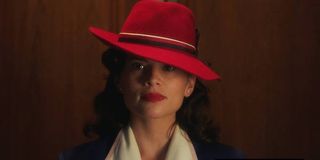 As another piece in the Marvel Cinematic Universe, it makes sense Ant-Man would have a few ties to previous Marvel projects to connect with the adventures of Scott Lang, Hank Pym and Hope Van Dyne. John Slattery will be reprising his role as the older Howard Stark (last seen in Iron Man 2), and it's been heavily suggested that Hayley Atwell will also appear as spy extraordinaire Peggy Carter. Although the latter has yet to be officially confirmed, Peggy will regardless still play an important role in the Ant-Man lore through Marvel's upcoming two-issue prequel comic series Marvel's Ant-Man Prelude.
You can check out all the preview pages for issue #1 at Newsarama, but the scene starts off with an older Peggy with a young Hank Pam circa early 1960s. While telling him the importance of improvising when one doesn't know what they're working with, she points a gun at him. Understandably surprised, Hank shrinks down in an early version of the Ant-Man suit as the bullets start flying, which then leads to the panel below.
Her response: "I think it works," the same thing she said to Steve Rogers after shooting his vibranium shield in Captain America: The First Avenger. Peggy sure is fond of using guns to test out experimental prototypes. Although the room that they're in isn't clearly identified, it looks like Peggy is still involved with S.H.I.E.L.D., meaning that Hank either is a S.H.I.E.L.D. agent or is consulting them in some capacity. Issue #1 will see Hank using the Ant-Man technology for a mission "that takes [him] into the icy heart of Cold War East Berlin," so this is her way of preparing him for field work, as standard scientists don't typically experiment under gunfire.
If Peggy does indeed appear in Ant-Man, it will be her fourth theatrical appearance, following Captain America: The First Avenger, Captain America: The Winter Soldier and Avengers: Age of Ultron. She is currently starring in the ABC limited series Agent Carter, which follows her in post-World War II as she works for the Strategic Scientific Reserve and tracks down Howard Stark's stolen weapons. The Agent Carter One-Shot short film, which takes place after the series, established that Howard eventually recruits Peggy to help form S.H.I.E.L.D., so in this flashback (and possibly the movie's), viewers will get to see how the clandestine organization is faring at approximately 15 years old. Since most Marvel projects take place in the present day, it's always welcome to learn more about the MCU's history, and Peggy is one of its most important contributors.
Ant-Man will be released in theaters on July 17, and you can catch Agent Carter Tuesdays at 9 p.m. ET on ABC.
Connoisseur of Marvel, DC, Star Wars, John Wick, MonsterVerse and Doctor Who lore. He's aware he looks like Harry Potter and Clark Kent.
Your Daily Blend of Entertainment News
Thank you for signing up to CinemaBlend. You will receive a verification email shortly.
There was a problem. Please refresh the page and try again.