80s Classic Big Might Return In This Form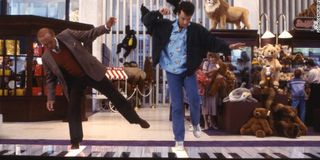 It's not unheard of for a movie to become a TV series later on. In fact, turning a movie premise into a TV idea has been pretty popular lately, with a Minority Report project and a Shutter Island-based series both in the works. Still, Fox's latest purchase might come as a bit of curveball. On Tuesday, the network bought an event series that would be a remake of the classic 1988 Penny Marshall film, Big. The best news? FAO Schwartz still has its big floor piano set up.
The Big remake isn't officially going forward to series, yet. So far, Fox has given the project a script plus penalty commitment, which isn't as big as a pilot commitment and is certainly not as awesome as a straight-to-series order. If it does get picked up, the project will follow "what it means to be an adult and what it means to be a kid." The project will have modern-world applications and will be based on the movie, although I'm guessing there probably won't be a fortuneteller machine kicking off the big switcheroo on the show. (Has anyone seen one of those in real life recently?)
Part of the reason Fox might not be gunning to move forward with the Big project despite the fact that it is based on a well-known and well-liked film is the creative team involved. THR is reporting that Enlisted's Kevin Biegel and Mike Royce are executive producing and writing the Big project. That's not meant to be a huge shot at the two men's talents. Enlisted was critically acclaimed and had a nice niche fanbase. It just wasn't popular enough to earn a second season renewal at Fox.
Twentieth Century Fox TV eventually shopped the comedy around to outlets like Yahoo and almost worked out a deal to keep Biegel and Royce on the air this season, but budget constraints kept that from happening. I'm sure this time around Fox wants to put together a project that can nab both acclaim and viewers. In short, it's easy to see why the network would be taking things slowly with Big.
Big is going to be a tough act to pull off. The movie starred Tom Hanks, Elizabeth Perkins and Robert Loggia and is about a kid who wishes he were an adult to a fortune teller machine called Zoltar. After magically becoming an adult, he is hired by a toy company to bring a sense of wonder back into the toy-making business. It's a movie that is joyful, passionate and honest. It's not interested in looking cool or trading in fast dialogue. It's actually pretty refreshing, but in order for the TV show to work, it will likely require the same tone, which isn't often found on TV these days.
I'm hoping and wishing we'll see Big on Fox for the 2015-2016 season, but the competition could be quite fierce. In the meantime, crack open your DVD case and watch Tom Hanks' iconic role in preparation or click over to the next page to check out the famous piano scene.
Amazing Race & Top Chef superfan with a pinch of Disney fairy dust thrown in. If you've created a rom-com I've probably watched it.
Your Daily Blend of Entertainment News
Thank you for signing up to CinemaBlend. You will receive a verification email shortly.
There was a problem. Please refresh the page and try again.