Martin Scorsese Might Reimagine Shutter Island For HBO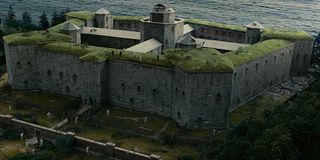 Some TV trends are better than others. We don't mind what seems to be the emerging trend of taking movie ideas and turning them into TV pilots. On Monday, HBO and Paramount Television began working on a deal to bring Martin Scorsese's 2010 film Shutter Island to the small screen. The proposed TV series would be a prequel of sorts to the film.
Instead of Shutter Island, the TV version would go by the also-foreboding name Ashecliffe. In the original movie, Ashecliffe is the name of the mental asylum where Leonardo DiCaprio and company first head. According to Deadline, the potential TV series would follow the founders of the hospital, focusing on the "secrets and misdeeds" of those early entrepreneurs, as well as some of the funky rehabilitation methods they concocted.
The potential series wouldn't stray too far from its roots, either. If it moves forward, Ashecliffe's pilot will be directed by Martin Scorsese. Additionally, Dennis Lehane has been brought on to co-pen the pilot, and while he is not responsible for writing the script for the 2010 movie, he did write the book that the movie is based on. Tom Bernardo will also write. Scorsese is always a busy guy, but with Boardwalk Empire wrapping up this fall, he'll have one hand free to work on a new TV project, and Ashecliffe is potentially the right fit.
There are several other people involved with the movie who would also be involved in the series, including starrer Leonardio DiCaprio and producer Brad Fischer, who will executive produce the project. Other executive producers involved include Scorsese, Lehane, Jennifer Killoran Davisson, Laeta Kalogridis, Rick Yorn, Chris Donnelly, Emma Tillinger Koskoff, Mike Medavoy and Arnie Messer.
As we noted earlier, movie premises are being reinvisioned for hour-long segments left and right. Earlier this week, we brought you news that Steven Spielberg's Minority Report might become a TV series, a School of Rock series is in the works and there are numerous Wizard of Oz-type stories at various networks. Additionally, Ashecliffe would be a trendy addition to HBO's schedule thanks to the rise of horror programming on television. The subscription cable network could use something edgy and a little scary to compete with Penny Dreadful and American Horror Story. True Blood was the closest thing the network had to horror for a long time, and that was campier than it was terrifying.
Clearly, we are still a long way off from a series order for Ashecliffe. Regardless, with all of the big names on board, I wouldn't be surprised if Ashecliffe were to get greenlighted sooner rather than later, and we'll keep you posted as the project shoots off, or even if it fizzles out, instead.
Amazing Race & Top Chef superfan with a pinch of Disney fairy dust thrown in. If you've created a rom-com I've probably watched it.
Your Daily Blend of Entertainment News
Thank you for signing up to CinemaBlend. You will receive a verification email shortly.
There was a problem. Please refresh the page and try again.