The Minority Report Pilot: All The New Details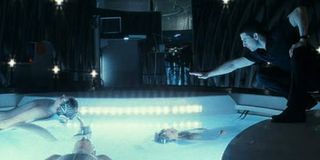 It looks like the PreCrime ball is rolling for the potential Minority Report series. While it sometimes take a while for a new TV idea to get off the ground, just a few short weeks after news broke that a Minority Report project was in development, the project has nabbed a pilot commitment at Fox. Additionally, it looks like the potential series will also have a female lead.
Early reports indicated that the Minority Report project would focus on the PreCrime unit that is led by Tom Cruise at the beginning of the Steven Spielberg film. However, now it looks as if the series will be a sequel of sorts, focusing on a story set 10 years after the events in the movie. The project will focus on one of the male Precogs who was forced to psychically live crimes before they happened. He's now attempting to live an average life, to various degrees of success. According to THR, the other lead in the series will be female. She'll be introduced as a mentor to the former Precog who will help him to use his unique gifts.
It's no surprise that Fox has nabbed Minority Report. The network is one of the few that will take a risk on chancy science fiction premises, although Fox doesn't always follow through with a second season when a sci fi story does make it to series. Additionally, Minority Report was a pretty popular film for Twentieth Century Fox when it came out, making over 130 million domestically and crushing overseas. A TV series could also find success, and since Minority Report is a Fox property, it makes total sense that the network would have first dibs.
Fox isn't the only group involved with production. Amblin Television and Paramount Television will also produce the project, and Amblin's Justin Falvey and Darryl Frank will executive produce. As noted prior, Godzilla writer Max Borenstein is set to pen the script. Since he doesn't have any monsters to hide behind this time, I'm really hoping he can write a character that is more compelling than Ford Brody. Still, it's nice to hear he's at least planning to give a female lead a shot in this project.
Part of the reason Minority Report was so compelling the first time around was due to the glass and steel world of the future Spielberg's team created. I can vividly remember the automated cars sequence from the movie, as well as smaller touches, like a person's eyes automatically triggering advertisements when they walk into a store. Of course, it was the PreCrime premise that made Minority Report a truly eventful story, and we'll have to wait and see how futuristic the world of Minority Report seems a decade after PreCrime was considered a failure. The jumping point is certainly a nice tie-in to the movie, and that might be enough for Fox to pick it up to series if some good actors are cast.
Since the pilot is still in the early stages, there are a lot of details that still need to be filled in. Who will star in the pilot? Who will direct? And will Minority Report be a sound enough premise to move forward to series? Stay tuned for more information.
Amazing Race & Top Chef superfan with a pinch of Disney fairy dust thrown in. If you've created a rom-com I've probably watched it.
Your Daily Blend of Entertainment News
Thank you for signing up to CinemaBlend. You will receive a verification email shortly.
There was a problem. Please refresh the page and try again.