ABC/CNN Election Night Ratings Winners (With No Recounts, Whew!)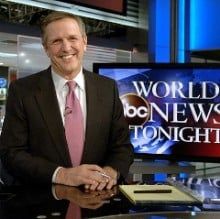 With a little lead-in help from 'Dancing With the Stars' ABC topped the Tuesday night ratings contest with CNN drawing big in the 25-54 crowd out in cable land. The alphabet network played it smart by preempting its mediocre 'Help Me Help You,' in its quest to keep 'Star' gazing eyeballs glued to Charlie Gibson and the gang as the electoral results rolled in throughout the night.
Overall, the "strategery" resulted in a "mission accomplished" as Gibson drew 9.7 million viewers, easily topping his rivals Brian Williams of NBC, and newcomer Katie Couric over at…where is she again? Oh, CBS, that's right.
Although 'Nightly News With Brian Williams' surged in the beginning of the night with 10.4 million after a relatively weak lead-in via 'Law and Order: Criminal Intent,' that lead quickly fizzled. Variety.com reports that Williams wound up one million below his predecessor Brokaw's 8 million viewers from midterm 2002. Meanwhile, dark clouds eclipsed Mrs. Morning Sunshine as she suffered nearly a 50% drop-off in the 12 million viewers who tuned in to see the last half-hour of 'The Unit,' down to her nightly haul of 6.31 million.
However, while the Big Three networks enjoyed the lion's share of viewers, it was their cable competitors who enjoyed the greater percentage of gains this year over 2002. Technically, Fox News won the cable race, garnering a 12% increase in primetime with an average of 3.06 million. But it was CNN that won 1.33 million of the coveted 25-54 demographic over Fox's 1.25 million. MSNBC played its traditional part as blip on the radar screen, pulling in 893,000 of the same demographic.
Your Daily Blend of Entertainment News
Thank you for signing up to CinemaBlend. You will receive a verification email shortly.
There was a problem. Please refresh the page and try again.