ABC Family Renews Pretty Little Liars, Adds Spinoff Series Ravenswood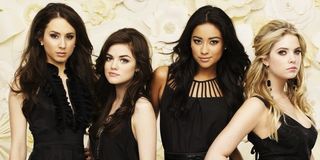 If you like Pretty Little Liars, there's good news. Not only has the series been given a renewal, you'll also have a new show to check out soon. ABC Family has given the greenlight for a spinoff called Ravenswood that will go straight to series and has also announced the Pretty Little Liars Season 5 renewal prior to the fourth season premiere.
Ravenswood will take place in a town near the setting of Pretty Little Liars--a town that has been under a curse for numerous years. Deadline says the new characters and town will be introduced in the third Pretty Little Liars Halloween special next fall, and the spinoff will premiere right after. The show is written by PLL's co-showrunners Marlene King, Oliver Goldstick, and Joseph Dougherty, who developed PLL from a series of books.
The confidence ABC Family is showing in PLL to launch a new show without even going through the pilot stage seems to be fairly well-earned. Although I never could get into the series, it's been bringing in good ratings for the network (the recent third season had the best ratings yet) and nabbed a People's Choice Award for best cable drama of 2012. With The Secret Life of the American Teenager wrapping up after the upcoming season, PLL should be the network's new flagship show, doubly so with a spinoff joining the network.
Pretty Little Liars is slated to return to ABC Family for Season 4 on Tuesday, June 11th; Ravenswood won't have a premiere date for a while yet but we'll keep you updated.
Your Daily Blend of Entertainment News
Thank you for signing up to CinemaBlend. You will receive a verification email shortly.
There was a problem. Please refresh the page and try again.