ABC Picks Up Pilot For An Adaptation Of British Series White Van Man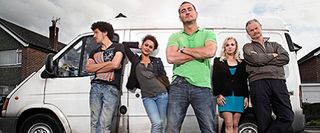 Yet another British series is being adapted for American television, this time over at ABC where they have picked up White Van Man - with a cast-contingent pilot order according to Deadline - based on a show from across the pond of the same name. The series focuses on a blue collar family man must put aside his own hopes and dreams and follow in his father's footsteps instead.
There is a long history of American networks grabbing up British shows and retooling them for Us audiences, some successful and some major failures. Consider the 2003 attempt to bring over the British comedy hit Coupling, which was a major failure. On the other hand there have been some good ones. Being Human over at SyFy is a recent example of a British show that has done well in it's US incarnation. And then of course, there's The Office which might well be one of the most successful American remakes. Recently CBS raised eyebrows with the announcement that they are adapting a modern day Sherlock Holmes series called Elementary that, although it isn't an adaptation, bears plenty of similarities to the British series Sherlock.
The adaptation for this latest attempt was written by My Name is Earl executive producer Bobby Bowman. The name comes from British colloquial for men who drive the well known white vans associated with repairmen of every time, and it centers on a man who follows his dad into the handyman business against his higher aspirations in life out of necessity. The original premiered last year on BBC Three, so this is a pretty quick move on the part of ABC to bring it over to American audiences. Time will tell on this one.
Your Daily Blend of Entertainment News
Your Daily Blend of Entertainment News
Thank you for signing up to CinemaBlend. You will receive a verification email shortly.
There was a problem. Please refresh the page and try again.