Abby Elliott Is Leaving Saturday Night Live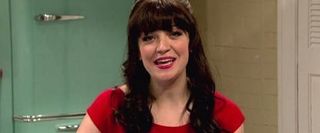 Abby Elliott, whose impressions of Zooey Deschanel, Rachel Maddow and Angelina Jolie were among the highlights of Saturday Night Live, is leaving the show after just four seasons. With Kristen Wiig, Andy Samberg and Jason Sudeikis also reaching the end of their contracts-- though Sudeikis is still undecided on whether he's taking off-- it's a surprise to hear Elliott is ready to leave the show as well, especially since Wiig's departure seemed to clear the way for a lot of the show's other female stars to take the spotlight.
Elliott hasn't said anything publicly about her departure, but Splitsider reported the news as a done deal, so we have no reason not to believe them. Saturday Night Live contracts typically run for seven years, so if Elliott is departing after four, it's not likely her decision. It's unclear what Elliott will be doing after departing the show-- she had been set to shoot a pilot for Fox, but was fired from the show a month later. But if she follows the path of other previous SNL-ers, there ought to be movie roles on the way; and if her relationship with Kristen Wiig is strong from their days working together at Rockefeller Center, those are some serious coattails to ride into movies, as Wiig is developing what feels like half a dozen movies right now.
So with Elliott apparently departing, let's look back and some of her highlights on the show. My favorite clip is the first one, "Bein' Quirky with Zooey Deschanel," in which Deschanel herself appears as Mary-Kate Olsen and Taran Killam puts in an incredible impression as Michael Cera. After that is Elliott doing her best, absurdist Angelina Jolie opposite Kristen Wiig's Madonna. We'll miss seeing her on this show every week.
Your Daily Blend of Entertainment News
Staff Writer at CinemaBlend