Alcatraz' Sarah Jones Joins CBS New Series Vegas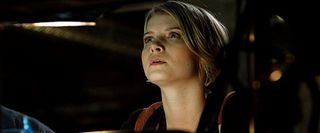 CBS' new series Vegas has added a regular to the lineup. Sarah Jones, who recently came off Fox's brief series Alcatraz has taken a part in the period drama set in Las Vegas in the 1960s that also stars Dennis Quaid and Michael Chiklis.
Jones will play the daughter of a powerful Chicago mobster; she will work in the casino and is the one in charge of skimming the profits. It seems her character will be closely associated with the one played by Chiklis, says Deadline. Chiklis' character is a gangster, Vincent Savino, with whom Jones will conspire to funnel money out of Vegas and back to Chicago in new and ingenious ways. Dennis Quaid will play the role of Ralph Lamb, a rancher turned Las Vegas lawman who will take on the monumental task of clearning up the booming town that is under the thumb of mobsters, thus coming up against Savino and others like him. The series is based on a true story, but it's unclear whether Jones character is based on a real person.
Vegas comes from Casino writer Nicholas Pileggi, who is something of an expert on gangsters in that era, especially in Vegas. Certainly this series has a very Casino-like feel, although it seems to focus more on the law and less on the lives of the gansters. He was also the writer behind Goodfellas. Also on board for the new show are The Matrix star Carrie-Ann Moss and Jason O'Mara. The series is set to premiere on September 25th on CBS.
Your Daily Blend of Entertainment News
Your Daily Blend of Entertainment News
Thank you for signing up to CinemaBlend. You will receive a verification email shortly.
There was a problem. Please refresh the page and try again.