Alexandra Daddario, Elizabeth Reaser, And 2 More Join HBO's True Detective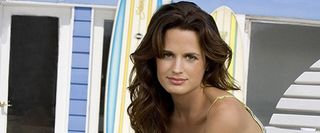 HBO's new series True Detective is moving forward with casting at a pretty good pace. They've added four new faces, two male and two female, to join stars Matthew McConaughey and Woody Harrelson.
Twilight saga star Elizabeth Reaser and Texas Chainsaw 3D star Alexandria Daddario are the two new female stars added to the series. They'll both be involved with the two leading men, whose decades old investigation of a murder has caused their lives to collide. Reaser will be playing Rust Cohle's (Matthew McConaughey) girlfriend, Laurie Perkins, a surgeon who is classy and works with the wife of Martin Hart (Woody Harrelson). Harrelson's wife will be played by Megan Monaghan. Alexandria Daddario will play a beautiful court reporter who finds herself entwined in a relationship with Hart that takes a dark turn.
The two new males added the cast are both alums of The Wire. Wood Harris and Michael Potts will both come on board as detectives. Potts plays Detective Maynard Gilbough, described as "cerebral" according to Deadline, while Harris will be playing his partner Thomas Papania. They will be involved in questioning Hart and Cohle regarding the events of decades ago, convinced that they are hiding something.
True Detectives started out promising with both McConaughey and Harrelson attached and looks like it's getting stronger by the day. It follows an interesting format in which it will move back and forth in time between the time of the murder in 1995 and testimony being given by the two lead detectives in the present day. This will definitely be a project worth keeping an eye on, and we'll keep you updated on production.
Your Daily Blend of Entertainment News
Thank you for signing up to CinemaBlend. You will receive a verification email shortly.
There was a problem. Please refresh the page and try again.