Almost Human Review: Fox's Futuristic Cop Drama Is Brimming With Thrills And Potential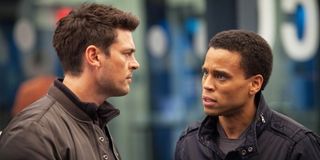 Fox took a chance on a mystery series with a historical and supernatural twist in Sleepy Hollow and it paid off. If the current trends of television are any indication, the classic police procedural format demands a little something extra. For Sleepy Hollow, it's Ichabod Crane. In the case of Almost Human, it comes in the form of a futuristic setting and a human-robot partnership, with Karl Urban representing the human side of the story and Michael Ealy serving as the robot half.
Almost Human has J.J. Abrams' Bad Robot production stamp on it, though the series is created by Fringe's J.H. Wyman. Set in 2048, the drama begins with the set-up for Urban's John Kennex, a detective who leads his men on an ill-fated mission that leaves almost the entire team dead. At this point, there are already humanoid robots working alongside the police, and we soon come to see why Kennex develops a severe lack of appreciation and trust for the work these machines do, as one of them leaves him and his partner on their own when it decides it's impractical to stay behind and help them. Kennex is the sole survivor of this mission, and after a severed limb and a months-long coma, he returns to the police department to find that it's now mandatory for cops to be partnered with these machines.
Kennex is as reluctant to partner with a robot as his body is to partner with its synthetic leg. But recently revived robot Dorian may just be the right fit for Kennex. Ealy's character is a discontinued model, and brought back to life to serve as Kennex's new partner when Kennex rejects — to put it mildly — the MX model originally assigned to him. What we soon come to learn about Dorian is that his model was designed to be more emotionally responsive than the later models, but the programming was a bit unstable, hence the model being shelved. He's programmed to have feelings, which sets him apart from the MX models working at the police department, but there are some benefits to his way of thinking, which prove useful to Kennex's work. Dorian's also self-aware enough to know he doesn't want to be sent off to NASA to fix machines, which was his fate before he was unbagged to work with Kennex, so he's willing to take a more cooperative approach with Kennex if it means not having to be shipped off to a boring fate.
The pilot episode is split between character introductions, watching Dorian and Kennex attempt to work together, and the introduction to what appears to be a bigger mystery related to the organization involved in the mission that nearly got Kennex killed. They still don't know who was behind that, but in the present day, a new crime investigation may be connected to that attack. We also get to meet some of the supporting characters, including Minka Kelly's Valerie Stahl, a detective whose job includes analyzing behavior and trying to find patterns that can be used to solve crimes. This makes better sense in context, and you'll get a little sample of how that works in the pilot. Michael Irby plays Richard Paul, a detective who's reluctant to welcome Kennex back when he returns to work. Mackenzie Crook plays Rudy Lom, tech-expert and robot genius extraordinaire. And finally, Lili Taylor plays Kennex's boss, Captain Sandra Maldonado. She's almost as determined to find out who was behind the assault that killed Kennex's men as he is. And she seems to take a slightly more forgiving approach to Kennex's attitude than other people might.
Fox only gave us the pilot episode to screen, so I can't speak to how well the show plays beyond its introduction. I'm going to guess that the overall arc involving this mystery organization will continue to play out, but that there will be other crimes to solve, and given the futuristic setting, there's no shortage of potential there. Also brimming with potential is the relationship between Kennex and Dorian. The first episode gives us a sample of the dynamic, as we come to see Kennex as the hardened cop, who's distrustful of robots and determined to do anything to reclaim as many memories as he might have in his brain to uncover the truth about the attack that nearly killed him. While Dorian is the more sensitive of the two, and he's also determined to keep his job with the police department, though he's surrounded by people who don't take him seriously because of the history of his model. The fact that Dorian has personal motives opens up the character quite a bit, as it makse him seem, well, almost human. And Ealy plays that really well.
The premiere of Almost Human offers a solid introduction to a story, including futuristic thrills and a curious dynamic between its two leads. I might say the same thing about Sleepy Hollow, minus the futuristic part, but that's what makes me all the more hopeful about what Monday nights could look like once Almost Human settles into its regular timeslot. If Almost Human manages to live up to its potential in the episodes that follow its premiere, Fox may have another must-watch Monday-night drama on its hands.
Almost Human premieres tonight (Sunday, November 17) at 8:00 p.m. ET. And then Episode 2 airs on Monday (November 18) at 8:00 p.m. ET on FOX.
Your Daily Blend of Entertainment News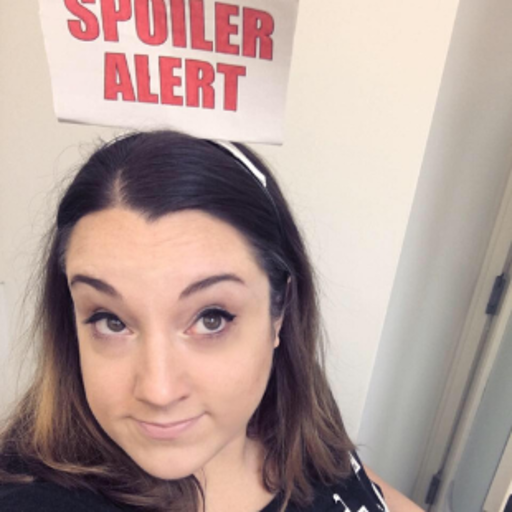 Assistant Managing Editor
Kelly joined CinemaBlend as a freelance TV news writer in 2006 and went on to serve as the site's TV Editor before moving over to other roles on the site. At present, she's an Assistant Managing Editor who spends much of her time brainstorming and editing feature content on the site.