The Amazing Race Watch: Not a Well-Rounded Athlete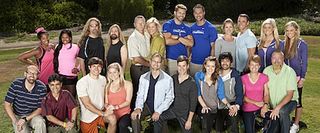 Last week, the final five teams migrated from Russia to Holland. Natalie and Nadiya choked down some foul-looking fish and copped the season's final Fast Forward as well as their second leg win, which I find just as foul. At the back of the pack, Abbie and Ryan found that their time deficit, along with being U-Turned by Team Magic Mike, was too great a deficit to overcome, and they were eliminated, ending their quest for a $2 million payday. Four teams remain: Magic Mike, Capricorn, Texas and Evil Twins. BOMP.
Getting down to the end now. Only two more legs before another winner is crowned. I hoped going in that any alliances that had formed would be discarded, because with only one more elimination left and with fatigue probably long since set in, the time for making stupid mistakes is over. The four teams remaining are either the best or the luckiest, and all it takes is one bad decision, one less-than-knowledgeable cabbie, or one wrong turn to demote you from racers to members of the Finish Line Welcoming Committee.
Starting Line - The House of Rembrandt's Mistress in Ransdorp, The Netherlands. The teams' first clue of Leg Ten told them to fly to Barcelona, Spain, and from there to take an overnight ferry to the island of Mallorca. From there, they would locate "a traditional Mallorcan spectacle of devils and demons playing with fire", which is basically a bunch of street performers who have painted themselves red and like to twirl flaming torches around. I think I had a nightmare like that once.
It's not often that the race gives the racers the time for any kind of respite, but it's pretty cool that the fates let the three lead teams get just that. They all arrived in Barcelona in the morning, with a full half a day to wait for the first ferry to Mallorca, so they did what I probably would want to do… hit the beach and just let it all hang out (so to speak) for a few hours. A mini-mini-vacation to escape the stress, which was cool, but by the end, all four teams were on equal footing again.
The macabre street show straight out of Dante's Inferno was located at the Palma Cathedral, one of the prettiest landmarks in Mallorca. I can only hope that the Spanish Inquisition never touched the place (but nobody expected the Spanish Inquisition, or so I've heard). Locating the one person representing Satan in the mass of writhing, screeching demons didn't take long, and their clue told them to drive themselves to their next location, the Centro De Alto Rendimento in the town of Manacor, the hometown of tennis phenom Rafael Nadal.
This location was also the site for the leg's Roadblock. The building itself was a clay-court tennis complex, and the challenge was fairly straightforward: return twenty tennis balls shot out of a machine (fast), in play, to get their next clue. I played a little tennis in my youth, and it's really not that easy. It's all about shifting your weight, and that's something you don't learn on the fly. Anyway, after completing the Roadblock, the teams were directed to the town of Campanet in northeastern Mallorca, where they would then find the Coves de Campanet, where some caves awaited.
Once entering the caves, the teams had to locate deep within the bowels of the earth two guys playing guitars, who would then give them this leg's Detour, and the choices were Spin It and Bull It. In the former, teams had to repair a 400-year-old windmill by attaching two giant blades to the main tower. In the latter, teams had to go to a 1000-year-old bullring, don a two-man bull costume, and run a course through eight matador capes before hitting a bulls eye… in two minutes or less. If I were in shape, I would definitely opt for Bull It, as it sounds like it would go much quicker. The Pit Stop for Leg Ten was the Castell de Bellver in Palma, a very picturesque 14th-century castle that has served as both a royal residence and a prison in its long history. It translates literally as "the castle with the lovely view", and there's no disputing that. Wow.
Below is the order the contestants finished in, along with some of their more interesting moments.
#1. Trey and Lexi - It really is amazing the camaraderie the three lead teams share, and I'm fairly sure it's never happened this late in a race before. It's cool that it makes for a much more congenial race, and between Teams Texas and Magic Mike, I'm sure we will find our winner. They arrived at the Roadblock together, but Trey took command because he's actually played tennis before, and from then it was smooth sailing to the Pit Stop. They won their third leg in the last five, and with it a trip for two to the Riviera Maya in Mexico.
#2. Jaymes and James - James' skills have proved to be varied and disparate, but watching him flail at dozens of tennis balls was both sad and funny at the same time. Then they took a wrong turn and ended up at the slower of the two Detour options, but they had loads of time before the two back teams showed up. They remain my favorite to win the race, and it amazes me just how chipper they've been since it all started. That, folks, is how you run the race.
#3. Josh and Brent - I don't know what the record is for coming in second-to-last in consecutive legs, but I'm betting Team Capricorn just set it, having done just that five times in a row, and having seen no other racers in the last three legs other than Abbie and Ryan. When the caught up to the pack, it was game on, but really, they just don't have it in them to keep up on their own steam. Josh's ankle injury had healed enough for him to take on the tennis challenge, but before long he was grunting like Monica Seles. When the twins arrived while Josh was taking a break, I thought that would be that. But as I've said, they have an angel looking after them, and they stayed out of last place yet again.
The following team came in last but, tragically, was not eliminated:
#4. Natalie and Nadiya - A couple of seasons ago, I laid out my Ten Commandments of running The Amazing Race, and one of those commandments was "learn to drive stick". Nadiya apparently took one lesson in this skill and figured she was ready. Wrongo. This inability put them well behind Magic Mike and Texas, and back down with Team Capricorn. Nadiya proved to be equally proficient at tennis at driving stick, but they left the Roadblock only minutes behind.
The fact of the matter is, this team has only been able to stay in the lead because they made alliances with two very strong teams, but once they got separated, they showed that they really lack the skills to compete on their own. It's possible that in the next leg, Teams Texas and Magic Mike may help them out again so they can slip into the Finals in front of Team Capricorn, but I'm hoping that they will make enough of their own mistakes to leave them fuming in fourth place. We'll see.
Next week: the two-hour season finale. First off, the teams head to France, where one team will be sacre bleu'd out of the competition, and then back to the U.S., where the million-dollar-winning team will be determined. See you in seven!
Your Daily Blend of Entertainment News
Your Daily Blend of Entertainment News
Thank you for signing up to CinemaBlend. You will receive a verification email shortly.
There was a problem. Please refresh the page and try again.