Amy Poehler Joins Seth Meyers For SNL Weekend Update Thursday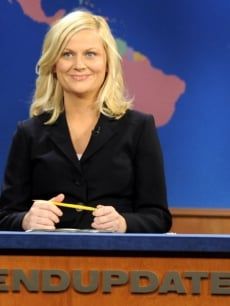 Good news for Amy Poehler fans. Come this fall, NBC viewers will be getting a double-dose of the actress/comedian as it's been confirmed that she's going to co-host SNL Weekend Update Thursday alongside Seth Meyer for not one but two episodes this September.
EW's Ausiello posted the news, stating that his source said Poehler's being brought on to return to her seat at the Weekend Update desk on September 17th, for Saturday Night Live Weekend Update Thursday. The special 30-minute SNL segment will precede the season premieres of Parks and Recreation and The Office as well as the series premiere of Community, starring Joel McHale.
Ausiello went on to say that the Parks and Recreation star will also co-anchor Weekend Update Thursday with Meyers the following Thursday (September 24th) but that it was unclear who would be sitting next to Meyers for the four scheduled episodes after that. While Meyer's funny, I always thought he and Poehler made a great duo:
Your Daily Blend of Entertainment News
Thank you for signing up to CinemaBlend. You will receive a verification email shortly.
There was a problem. Please refresh the page and try again.